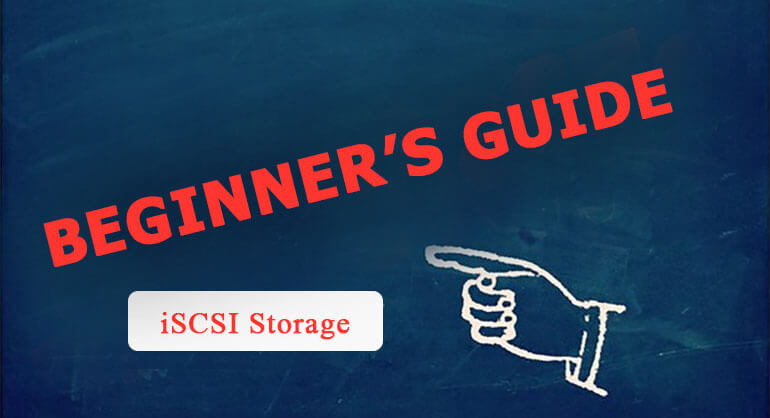 Storage management for ever-growing capacity of data is a crucial subject for businesses of all sizes. Simple and reliable storage based on iSCSI can be a good alternative for companies looking for cost-effective and easy to manage solutions.
iSCSI is a native TCP/IP protocol used for establishing and managing connections between IP-based storage devices, hosts and clients.
Open-E Data Storage Software V7 is used for setting up and managing data storage servers. Its design is an answer to the market demands, enabling companies to create effective iSCSI-based solutions that fulfill their storage needs.
Benefits of iSCSI
As there are a lot of advantages of implementing iSCSI, the number of businesses incorporating this technology is continuously increasing. Main benefits include:
Low cost – iSCSI uses the existing network infrastructure so there is no need to buy expensive equipment.
Easy installation and maintenance of iSCSI SANs – commonly used TCP/IP network protocols require less IT expertise.  Therefore, no special training is required for network administrators.
Excellent performance – it is a very good alternative to the more expensive Fibre Channel technology.
No distance limitation – using IP networking solves the problem with data replication to remote sites.
Interoperability and flexibility – iSCSI uses standard Ethernet switches so there is no need to install special cabling and switches required with Fibre Channel, it can also run at different Ethernet speed (users can choose between Gigabit and 10GbE or higher)
Compatibility – It is compatible with many commonly used standards, respected and recognized by the Internet Engineering Task Force (IETF).
Multipathing – iSCSI supports multipathing to improve network resiliency.
Security – iSCSI offers security features such as Challenge Handshake Authentication Protocol (CHAP) and Internet Protocol Security (IPsec).
Did you know?
iSCSI over 10 Gb Ethernet can carry 50% more data than 8 Gb Fibre Channel and 10 times more than Gigabit Ethernet.
Who should use iSCSI?
Although iSCSI is mostly recommended for SMBs, it can be used by businesses of all sizes e.g. shops, government offices, healthcare providers, research institutions, enterprise or corporate data centers. iSCSI SANs are especially recommended to organizations:
with limited budget and IT infrastructure,
spread across several physical locations and willing to consolidate their storage resources,
requiring remote data replication and disaster recovery,
needing  immediate and fast access to data and backup sets,
working as Application Service Providers (ASPs), Internet Service Providers (ISPs) or Storage Service Providers (SSPs),
utilizing demanding server Virtualization projects requiring network storage solutions.
Open-E DSS V7 – software solution for iSCSI storage
Open-E Data Storage Software V7 is a storage management operating system offering iSCSI functionality. It ensures effective storage resources usage with keeping high level security and performance at the same time. It provides numerous benefits:
Enhanced manageability and increased productivity – there is no need to install any additional operating system. Installation and configuration process is easy, fast and user-friendly.
Versatility – as a platform for IP Storage, it joins the advantages of NAS and iSCSI in a single operating system enabling file sharing, storage consolidation, virtualization or replication.
Better performance, reliability and redundancy – tests performed by Open-E QA Team proved that overall performance can be doubled in the iSCSI Active-Active configuration. Thus it is a perfect solution for networks with many clients or for storage applications requiring high data throughput.
High availability  –  with iSCSI (SAN) Active-Active Failover, volumes are run simultaneously on two nodes ensuring no downtime in case of any disruption.
Low cost – in comparison with other solutions on the market offering similar functionalities.
Quality – confirmed by 3rd party vendor certifications and interoperability tests, including VMware ESXi, Citrix XenServer, Microsoft Windows and Hyper-V.
Introduction to iSCSI storage with Open-E DSS V7
Preparing iSCSI Targets to work for you is a very easy process with Open-E DSS V7. To make things even easier, we gathered the essential instructions. We hope you will find them helpful.
Creating an iSCSI volume
Before we create an iSCSI Volume with Open-E DSS V7 we would need to have at least one drive array/unit available and a volume group (vg) created.
In order to create an iSCSI Volume within a Volume Group, go through the following steps:
1. Click Configuration → Volume Manager → Volume Groups.
2. Click on relevant Volume Group e.g. vg00 and navigate to the Volume manager panel.
3. Using Action option select new iSCSI volume.
4. In Options, you can either select Just create volume and create iSCSI Target later or choose Create new target automatically so the system will create iSCSI volume and iSCSI Target together.
5. You can also choose between File I/O and Block I/O (you can learn more about differences between them from Volume manager help file).
6. Finally you will need to decide about the size of your iSCSI volume.
7. Once you are happy with your settings click "apply".
Creating iSCSI target
If you haven't chosen to create iSCSI target automatically when creating iSCSI volume, you will need to create it manually. Here's a short instruction on how to do it:
1. Click Configuration → iSCSI target manager → Targets.
2. In the Create new target panel, click apply to create new target.
3. Navigate to the Targets menu and select the target alias you have just created.
4. Within Target volume manager panel, attach the recently created target to a selected volume. You can decide on the access mode used and choose SCSI ID (more information about these options can be found in help file)
5. Additionally you can enable CHAP user access authentication and deny or allow target IP access.
Connecting to iSCSI target from iSCSI initiator
iSCSI allows to send SCSI packets from client (iSCSI initiator) to server (iSCSI target) over a TCP/IP network.
When the iSCSI initiator connects to the iSCSI target, the operating system sees the storage as a local SCSI device that can be formatted as usual.
In order to connect to iSCSI target from a client (end-user workstation) we will need to use iSCSI initiator software – the procedure of establishing such a connection will vary depending on the operating system used. Once connected, the iSCSI target will be shown on the computer as a local physical hard drive.
Additional how-to resources
Leave a Reply