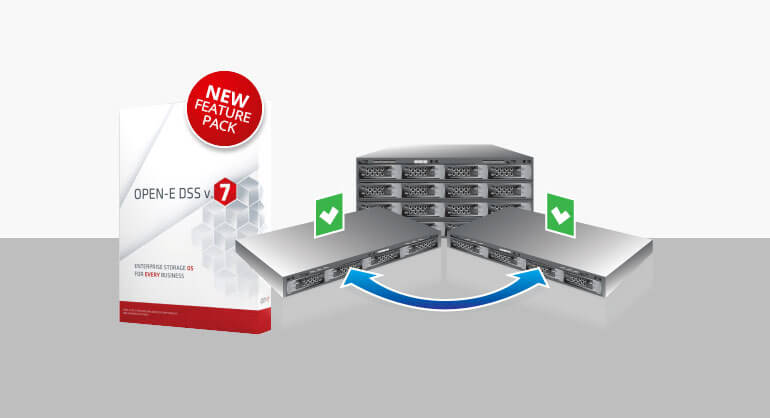 Good news! Today, Open-E, Avago Technologies and AIC jointly announced the general availability of a new feature pack: Data Storage Software V7 with Avago Syncro® Solution, integrating Open-E DSS V7 with Avago Storage powered by LSI and the AIC HA401-CP2 cluster-in-a-box solution.
"The combination of Open-E DSS V7 software with Avago Syncro High Availability and hardware manufacturers, such as AIC, deliver a powerful storage solution that offers many benefits to IT departments, including enterprise-class failover, substantially lower implementation cost, high-class redundancy and easier system manageability.We are pleased to collaborate with the teams at Open-E and AIC to help drive storage that meets the demands of this growing market."
Jas Tremblay, Data Center Solutions Group, Avago
Platform-independent storage clusters
Open-E DSS V7 with Avago Syncro® Solution offers a compressed high availability solution and powerful alternative to overpriced Fibre Channel and iSCSI solutions. Often when purchasing a new storage server, customers are surprised about the high ongoing costs for licensing. In fact, subscriptions and maintenance fees can be so high that technically a new server can be bought each year.
Now, white box builders can deliver for the first time Fibre Channel or an iSCSI active-active dual controller, using rock-solid, field-proven and well-tested hardware RAID with SSD Cache. Such setups eliminate any single-point-of-failure while using all available components to accelerate throughput and IOPS per HDD. Additionally, up to half a petabyte of storage can be stored with a white box commodity server into an HA implementation, insulating their applications, operating systems, and data from server and drive failures.
Advantages of Open-E DSS V7 with Avago Syncro® Solution
Flexible storage solution for Fibre Channel or iSCSI environments providing high performance and low latency
Platform-independent: usable with commodity hardware
Doubled bandwidth through MPIO
Cost-effectiveness in hardware: both head nodes access all drives simultaneously
Power usage and heat generation reduced by 50%
Based on stable Open-E DSS V7
Where to buy?
The software is now available through Open-E's channel partners. Find the full list here
Additional Resources :
Leave a Reply