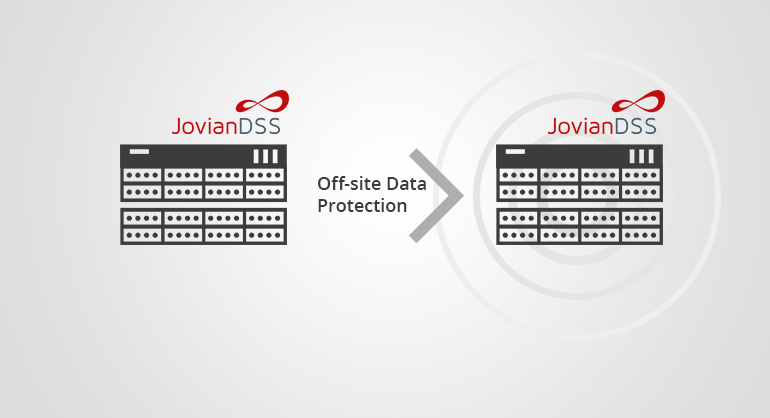 In computing, off-site data protection, or vaulting, is the strategy of sending critical data out of the main location (off the main site) as part of a disaster recovery plan. Data is usually transported off-site using removable storage media such as magnetic tape or optical storage. Data can also be sent electronically via a remote backup service, which is known as electronic vaulting or e-vaulting. Sending backups off-site ensures systems and servers can be reloaded with the latest data in the event of a disaster, accidental error, or system crash. Sending backups off-site also ensures that there is a copy of pertinent data that isn't stored on-site.
Source: Wikipedia
Off-site data protection guarantees you peace-of-mind, provided you choose to use such service from a reliable and trusted vendor. It's nothing new that a business aims to keep its information safe and control all its mission-critical data, as well as to be sure, that a sudden disaster will not mean going out of the market, but it will only be a temporary issue, that can be fixed within a blink of an eye.
What is off-site data protection?

Storing your data only on-site does not prevent your business from losing your data. Let's be honest, in case of a natural disaster, a man-made disaster or even a security issue, the risk of data loss is quite high, even if you invest in the market's best-known and most expensive solutions. Disasters happen, we cannot control them, but we can control the safety of our data, which in turn leads to Business Continuity and continuous high performance. Off-site data protection provides services that duplicate the data to different locations or to cloud storage. Local sites and co-locations perfectly minimize the risk of a data loss. The customer determines how long his data will be stored off-site. This is commonly called media retention period, and it can be divided into two recovery objectives:
RPO (Recovery Point Objective)
RTO (Recovery Time Objective)
The RPO and RTO are terms used for business continuity planning. RTO is the targeted time after a major incident, during which services must be restored so as to prevent a company from an unnecessary break in business continuity. RPO is the target period during which company data can be unavailable because of a disaster giving system administrators a limited time to recover the data.
Differences between on-site and off-site data protection
Companies can back up the important data either on-site or off-site. On-site storage means periodical storage of on devices (e.g. HDDs).  Off-site storage in turn requires a remote server and the data are reached via the Internet and also via direct access.
On-site storage provides immediate access to data and it does not require Internet access. The crucial disadvantage of on-site backup is the fact that in case of a sudden disaster, the on-site storage units with important data can be easily destroyed (e.g. during a flood, hurricane or fire in the building). Additionally, on-site backup devices can also be stolen. All in all, all those unexpected events mean for a company loss of time, money, and data.
With off-site storage users have access to data from any location, via Internet or FTP. Data are saved remotely in case of a catastrophic event and what is more – data can be shared to different locations. Even if the off-site data servers are taken offline for servicing and access to them is cut off, data are still safe on a remote location, while offsite data servers are able to maintain the data.
Off-site Data Protection in Open-E JovianDSS
At Open-E we understand the value of data safety in regard to business' success, which is why we constantly work on improving our software so that it will reduce the risk of data loss. The quality of our ZFS-based Open-E JovianDSS Software Defined Storage and all its services has been now enhanced even further. Off-site Data Storage Protection is a new feature of Open-E JovianDSS that provides a strategy for Backup, Archiving and Disaster Recovery by enabling asynchronous replication to local sites or co-locations. This way, servers with crucial data can be easily and instantly restored in case of an unexpected disaster. The off-site data protection is a feature that has been integrated into Open-E JovianDSS in the latest update of the software, the up15.
What is more, with this feature it is easy to set up an application-consistent backup with a retention interval as a Disaster Recovery plan for virtual environments based on VMware. The software does not require the installation of any backup agent. It effectively prevents data loss and minimizes the recovery time with high-speed data recovery, lowering the Recovery Point Objective (RPO) and Recovery Time Objective (RTO) in every backup strategy.
The Off-site Data Protection functionality in Open-E JovianDSS allows to create consistent snapshots and to asynchronously replicate snapshot deltas to local or remote destinations. Replication tasks can be scheduled according to the specific user requirements. Plus, encryption enhances the security even further while buffered data replication significantly increases the efficiency of storage environments with Open-E JovianDSS. The functionality can be managed via the Command Line Interface (CLI) in Open-E JovianDSS.
All in all, benefits of Open-E JovianDSS Off-site Data Protection:
Consistent backup solution that prevents data loss
Fully integrated and high-speed data recovery
No backup agents required
Low RPO and RTO to minimize the amount of lost data and recovery time
Highly customizable to individual requirements
Video: Open-E JovianDSS ODPS explained

Watch our tutorial in which you can see how to use replication for Backup and Disaster Recovery with the Open-E JovianDSS Off-site Data Protection Service.
Setup introduction
Data deduplication and compression demo (optimization by factor ~70)
ODPS (Off-site Data Protection Service) Quick Start (attaching the backup node, creating a backup task, listing backup tasks, checking the replication status)
Simulating pool corruption and Disaster Recovery
Update your Open-E JovianDSS right now!
Update your Open-E JovianDSS – log in to your Portal on the Open-E website and simply download the update.
Leave a Reply