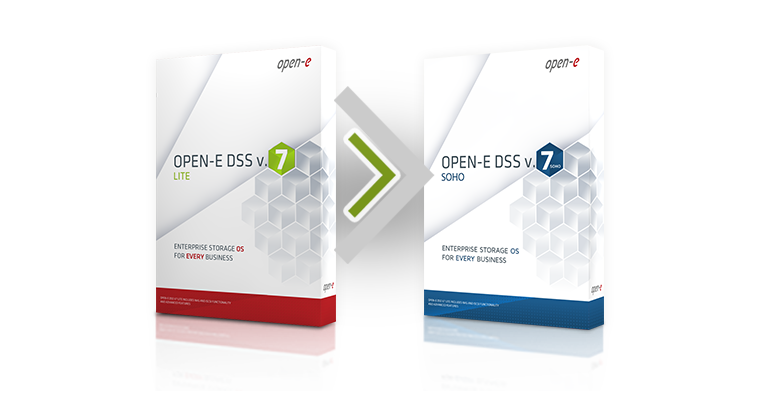 Open-E proudly announces the general availability of Open-E's enhanced storage product! Check out the free data storage software, Open-E DSS V7 4TB SOHO – successor of the proven Open-E DSS V7 2TB Lite.
Affordable storage solution for small business
With Open-E DSS V7 SOHO (Small Office Home Office) you benefit from the same features as in Lite version. But contrary to Lite, Open-E DSS V7 SOHO is equipped with doubled capacity of 4TB, and distinctly less expensive storage extensions. The software delivers basic functionalities of the regular Open-E DSS V7 . It is a perfect solution for users who aim at setting up a NAS / SAN platform in small or home offices.
All the best Open-E DSS V7 Lite features are kept. Apart from them, you will find some additional features, like:
FREE 4TB storage capacity
4, 8, 16 or 32TB storage extensions
Hardware independence
Single Case Basic Support
Hardware independence provides you with a chance of choosing hardware according to your specified needs. Storage extensions in turn, guarantee an easy and affordable scalability. Storage capacity can be easily increased as we offer you extensions of 4, 8, 16, and 32TB. In case any storage issue with your DSS V7 SOHO appears, you can benefit from the special Single Case Basic Support in form of e-mail assistance which will provide you with necessary tips. Of course, you can obtain support for Open-E DSS V7 SOHO other way than buying Single Case Basic Support, as Open-E offers many free resources, like the Open-E Forum, Open-E Knowledgebase and  other free documents and videos on the Open-E website.
Easy upgrades
If you are currently using Open-E DSS V7 2TB Lite you can easily upgrade to Open-E DSS V7 4TB SOHO. All you need to do is download the latest version of Open-E DSS V7 SOHO from our website and our current Lite version will automatically change to a 2TB SOHO. After that, you need to generate and type in a new product key in your Portal and the capacity will be increased to 4TB.
If you require more than 36TB storage size, we recommend buying the full Open-E DSS V7 license,  as 36TB is the maximum amount of storage  Open-E DSS V7 SOHO offers.
If you wish to learn more details on Open-E DSS V7 SOHO technical specifications, visit Open-E website.
Leave a Reply