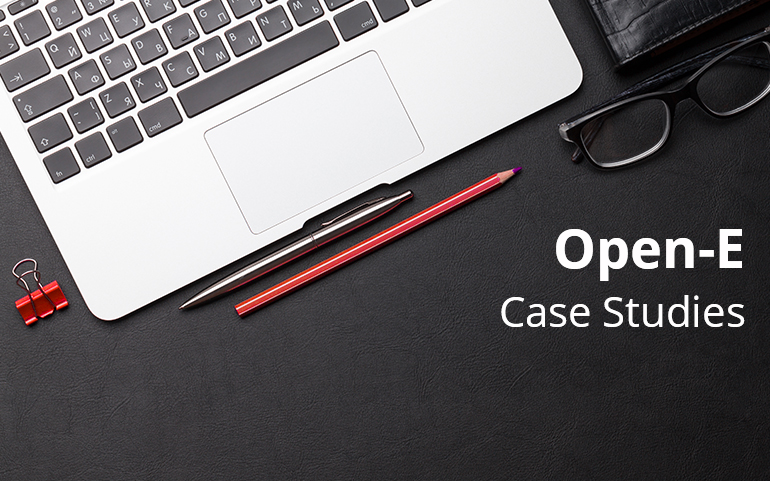 Beginning of the year is a great moment to summarize the achievements from the previous years as well as to prepare plans, goals and strategies for the upcoming months.
Well, in today's article we're presenting our most important success stories from 2019. In the presented documents we are analyzing the projects that illustrate the usage of Open-E products in various setups. Check out on how many markets Open-E products turned out to be IT !
Educational institution integrates High Availability Cluster with Open-E DSS V7
The Duale Hochschule Baden-Württemberg Mosbach required a centralized, High Availability storage system that provides iSCSI capacity for VMware servers. As for High Availability, they were looking for a solution with separated storage cluster nodes, plus the system should be easily expandable and the initial configuration should be of 10 TB on high-performance hard disks. Additionally, the system should offer good performance for a good price, as well as high redundancy with replicated data.
"We have chosen Open-E DSS V7 mainly because of our requirements for data replication combined with automatic failover for maximum availability of all data which in our case is a must. This software combined with great EUROstor solution is a guarantee that our IT environment has everything that's needed."
Market leader for bioenergetic products implements a Metro High Availability Cluster with ZFS-based Open-E JovianDSS
Memon Bionic Instruments GmbH conducts research in damaging influence on the environment, producing and distributing exclusively its own high-quality products. Their transfer to a new CRM system was accompanied by increased demands on the performance of the hardware. The customer was looking for a failure-resistant, highly available and high-performance IT system. The company has already been using the XFS-based Open-E DSS V7 cluster in an Active-Passive mode. Being satisfied with Open-E solutions, they have decided to switch to the ZFS-based Open-E JovianDSS.
"The employees in the terminal server sessions with the frontend of the CRM were impressed by the high performance of Open-E JovianDSS. As a test, we also ran these SQL VMs on the old DSS V7 cluster. The initial opening of an address database (about 2.2 billion addresses) took up to 22 seconds in the old system, the second opening went down to 17 seconds. The same VMs open the address database on Open-E JovianDSS system in less than 2 seconds. The second opening of all databases is obviously not measurable because of the good caching. In addition, videos for online training and internal promotional purposes run from Open-E JovianDSS Cluster did not indicate any performance slumps to date. Memon has confirmed the full success of the system."
High Availability Cluster with ZFS-based Open-E JovianDSS for one of the leading research organizations in Europe
EUROstor is a manufacturer of storage systems that focuses on server based systems, behaving as flexible storage servers, tailor-made for the customer. EUROstor has established a long-term business relationship with Max Planck Institute, supplying systems to this customer since 2007. Since they wanted to provide the best solution to their customer, they have chosen an Open-E product, not only due to its performance-price ratio but also due to the fact that the product has met all the strict requirements.
"We chose this solution because of its best-in-class features. Open-E JovianDSS is based on the ZFS file system which is easy to configure and manage. High Availability provides us with the sense of security, as we can rest assured that our data is fully protected even in case of a serious error. We've been using this system already for a year and our experience of this product is very positive, as it is stable, robust and offers great performance."
Software-defined storage reduces downtime of road assessment vehicle provider
IMP Bautest AG is a private institute specializing in materials science, construction advisory services and analytics. The area of bussiness that is of growing importance to the company is road condition assessments on behalf of municipalities and property developers. The mobile data acquisition system I.R.I.S. used in minibuses packed with high-resolution cameras, a 360-degree laser and also additional laser measuring devices have been developed by IMP Bautest AG. Downloading the data could take several days, if the old storage solution would be employed. The optimal solution was sought. Open-E JovianDSS was chosen due to its high flexibility both in terms of hardware compatibility and storage connection to virtual environments.
"The time savings for IMP Bautest are twofold. Transferring the data collected by I.R.I.S. takes now less than a third of the time previously required. Each year the system can spend several hundred additional operating hours on customer orders. For this reason, the project has paid for itself in just a few months. In addition, the processing of raw data also runs much smoother and reduces the workload of the specialists involved. The old storage system was at its limit during transmission, but the new one was far from being fully utilized. We are now working on speeding up the transmission on the part of I.R.I.S. and expecting time savings to increase by a factor of two."
Security services provider uses Open-E DSS V7 Active-Active iSCSI Failover Storage Cluster and VMware HA
The NWÜ GmbH & Co. KG is a company that offers an efficient, cross-industry safe solution for connecting alarm and IoT technology. It also operates a VDS 3138-certified emergency call and service center (NSL). Due to gathering large amounts of data and company's complex portfolio of services, NWÜ Security needed a failure-resistant, highly available, and secure data storage solution. The responsiveness of the control center providing mission-critical security and service was the main challenge that had to be resolved by the security provider. The company, satisfied with Open-E software products, decided to transfer to Open-E DSS V7.
International chemical company uses High Availability Cluster with Open-E JovianDSS
Mitsui Chemicals Europe GmbH is a chemical subsidiary of Mitsui Chemicals Inc, Tokyo. The company sought a High Availability iSCSI storage system with at least 50TB of usable storage capacity for its existing VMware farm. Open-E JovianDSS Active-Active cluster was suggested with two rack servers as storage nodes and two JBOD chassis for the operation of two independent storage pools.
"We use Dell hardware in our company and we also wanted to run our Open-E High Availability Cluster on this platform. We were convincingly and competently consulted regarding the
selection of suitable hardware as well as the subsequent configuration. The result is a High Availability Cluster with an outstanding price-performance ratio. Partly because ITgration GmbH understood how to implement the project in such a way that it perfectly met our requirements."
High-performance data storage server for data center providers
A high-performance storage solution was required by e-shelter to be used for iSCSI targets of various sizes. Their lab partner, Toshiba Electronics Europe GmbH selected a Supermicro server together with enterprise-class hard drives (HDDs) for the main data storage. Open-E was selected as the operating system vendor. This configuration turned out to deliver high performance and stability.
"The setup was installed and brought into production at e-shelter on August 30, 2017. Apart from a single planned shutdown in Nov 2018 due to a JovianDSS update, there hasn't been a single disk failure nor a second of downtime since then. The e-shelter Innovation Lab team, partners and Toshiba Electronics Europe GmbH are very pleased with the impressive performance and stability of Open-E's JovianDSS."
Hyper-Converged VMware Solution with Open-E and Broadberry for a book publisher
Usborne Publishing Ltd, is the UK's leading specialist for children's book publisher, and also an independent family business creating engaging, innovative, accessible books for readers of all ages. A long-lasting Open-E Partner, Broadberry was approached with a request to replace their internal VMware cluster and SAN with an enterprise-grade solution that should be cost-effective, faster than the existing one, and simultaneously reliable and of high performance.
Of course, the article includes only some of the many success stories with Open-E software. For more customer testimonials go to the Case Studies section in the Library on our website.
Remember that if you're an Open-E Partner and you have a successful project with Open-E JovianDSS that you want to share with the world, send us your project description.
Leave a Reply