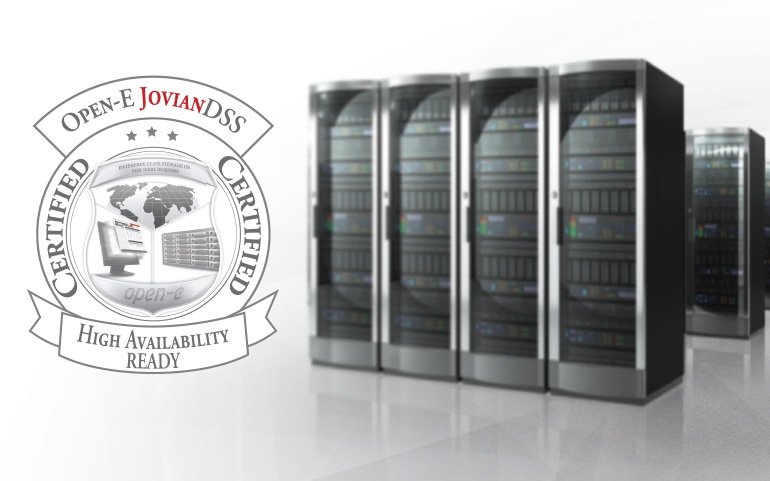 Lately Open-E's QA Team was testing and certifying new storage servers by our Partners. Open-E JovianDSS Certified Storage Servers that are tested, benchmarked and certified by Open-E ensure robust storage environments and compatibility, which is why customers are able to use solutions that require exceptional redundancy and security, without compromising performance. In this article we want to summarize the most recent High Availability Ready Certifications with our ZFS-based Open-E JovianDSS data storage software. Each of the recently certified solutions include the following benefits:
Guaranteed data protection
Enhanced storage performance
Flexible scalability
Simplified management
High Availability
Data integrity check
Thin provisioning
Tiered RAM and SSD Cache
Unlimited number of snapshots and clones
EUROstor ES-8700CLB2U

Open-E Platinum Partner EUROstor has been a manufacturer of storage systems with a focus on flexible storage servers, tailor-made for customer needs. Their ES-8700CLB2U is a 2U 24-SFF-Bay Cluster-in-a-box focused on providing high-availability in active-active configurations. As the solution is combined with the ZFS-based Open-E JovianDSS  it fulfills the demands of mission-critical, enterprise-level storage applications. Some of the key features of the system are:
Redundancy and fault-tolerance
Support for hot swappable controller nodes and storage drives
Two compute nodes, Active-Active configuration, each supporting two Intel® Xeon® Processors E5-2600 v3 Product Family and up to 512GB of DDR4 memory
10GbE, PCIe NTB or SAS link between nodes for communication and failover
For details, go to the Certification Report>>
NOTE: If you want to learn more about Cluster-in-a-box HA storage solutions with Open-E JovianDSS, read the solution article on our website >>
MCCS SFC-R730-HA3
MCCS is an all-round IT service provider, specialized in consulting, delivery, implementation, maintenance and management of high quality and reliable IT infrastructures.  The SFC-R730-HA3 Storage for Clouds by MCCS  is an Enterprise modular storage system built of the Dell PowerEdge and PowerVault family series hardware and Open-E JovianDSS Data Storage Software. The server can be set up in various configurations, from a single node up to an advanced Metro High Availability Cluster with snapshot replication options. Below we present a couple of features of this HA solution:
High Availability storage server optimized for mission-critical, storage applications on Enterprise level
Support for hot swappable compute nodes, storage drives and dual / triple / quad HBA controllers and networking
Support for a three-way mirror design (one is none) for increased RTO, RPO, SLA and performance resilliant rebuilds
Find more details in the Certification Report >>
N-TEC rapidNAS JSS424
N-TEC GmbH is a specialist in developing economic, universally applicable and highly scalable storage solutions, as well as an Open-E Platinum Partner. The rapidNAS JSS424 by N-TEC is a highly available ZFS-based unified storage solution which delivers file and block storage in one system to cover all requirements of NAS, iSCSI and Fibre Channel SAN environments. The N-TEC rapidNAS JSS424 built on the Open-E JovianDSS software provides business continuity for mission-critical enterprise environments, high performance, and minimized latency, where the key features of the solution are:
High speed storage and LAN interfaces with up to 50 Gbps bandwidth
Integrated 12 Gb/s SAS storage per node
Highly scalable and expandable
If you want to learn more about this storage solution, read the Certification Report>>
Explore all of Open-E Certified Hardware and build your own fully compatible storage environment with Open-E JovianDSS. Go to the List of Open-E Certified Storage Servers and choose one that fits your specific needs.
Leave a Reply