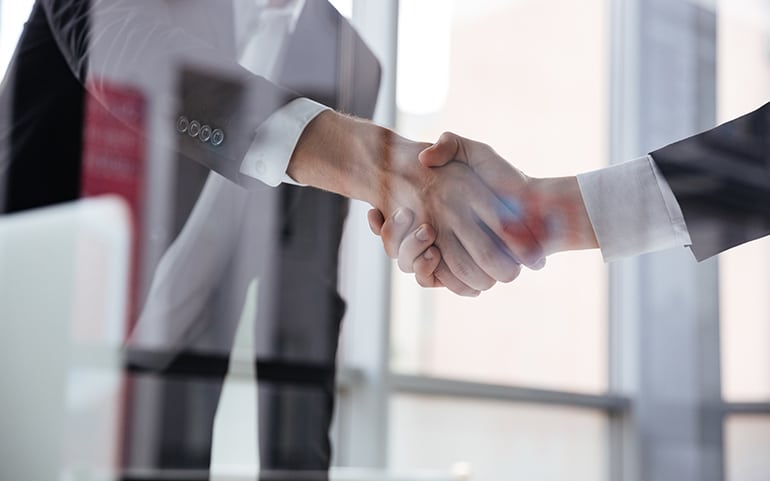 Usually small companies do not offer the exact same wide range of products and solutions as large businesses. However, it doesn't mean that they are in a lost position. Small businesses just need to find their unique market niche and most of all, believe in their capabilities. We know from experience that competing with a business giant can be intimidating but it should not paralyze. In business, identifying and taking new challenges is crucial to move forward and for small businesses, competing with the biggest players can be this type of challenge. So what's one of the best approaches to increase the chances of winning this market battle?
Business partnerships !
In the b2b market the rules of the game are tough and some of them cannot be changed. The business offer must be competitive in terms of quality and value and also be complete to cover all needs of the customer. Smaller companies often struggle with providing a full set of features and services but they can overcome this weaknesses by joining their forces together. The most important benefit of a partnership is the synergy of offers and its cross complementarity. It allows companies to provide more attractive product with a wider set of features and complementary services which in result increases the chances to be noticed on the market. This way, small businesses are able to compete with large companies.
By the way, partnership means having someone to share and celebrate the success with 😉
Nevertheless, a proper partnership is possible only when contributions of the partners are on similar level. It means that it's important to choose a company that has similar resources and is of similar size and range. If this balance is not maintained, the bigger partner can use weaknesses of the smaller one and dominate the partnership only for its own advantage.
Additionally, it's easier to understand a business that operates on a scale similar to ours. This similarity generates consistent values and conception of work, has a positive impact on setting agreeable financial resources etc. Partnership between similarly sized businesses is also more likely to be based on a closer and more active relationship on both sides, as well as on open communication.
How does it work?
Joining business forces enables partners to compete with large companies by combining their best to deliver a stronger and more complete product. Each partner can provide their own core competences which can be considered as relatively small when sold single but combined, they can form a strong asset that could compete with the biggest in the industry.
A good and honest communication between the partners plays a vital role here. Communicate your core strengths and get familiar with what are the partner's core skills, then establish a plan how you can win the market together.
Businesses are stronger together. This principle finds its full reflection in the idea of partnership between smaller businesses. In today's fast-paced environment defined by continuous technological change, the "do-it-alone" attitude may not always work, especially for smaller businesses.
There are many determinants that support the thesis in favor of cooperating with smaller businesses than with large companies. They are important from the clients' perspective because they can help to decide with whom to cooperate. In business, the client is in the center of interest so his profits are these that determine the direction the companies take to develop their offer.
Focus on the client!
Having a deeper insight into customers' needs is necessary to provide them with what they want in the way they prefer. A face-to-face contact with customers gives you, as a smaller business representative, a perfect opportunity to get to know their needs and later to be a step ahead of large corporations. If customers know you or maybe your employees, it's way more possible that you will get their trust and support.
Cooperating with a smaller business means that customer rarely deals with a customer specialist or a salesperson using a talk script. Smaller business usually proposes one-on-one relation on a line customer – sales or support specialist. This is a big difference from the usually automated and time-consuming services (when it comes to reaching the customer) that large corporations provide. Being closer to clients means being in a greater position to get an honest feedback from them. Feedback in turn, allows you to observe clients' problems or preferences and this opens the door to adjusting and developing the product.
Adapt, cooperate, stay proactive
Smaller business can adapt to the changing customers' needs more conveniently than a large one. There is no enormous infrastructure and internal processes to amend so the change can be implemented more easily. Additionally, the information about what should be changed gets to the decision-making person faster than in a large company. It can be shared directly with the owner or employees who usually have lineal contact with the owner and they can pass it right away. It makes it possible to address the problem much faster than it is happening in a large corporation. Consequently, large businesses are not as agile as smaller businesses and this affects the quick implementation of changes that are required by the market. Therefore, you can be a step ahead of large corporations by delivering high value products from the client's point of view. The business approach based on being focused and investing all efforts into a specific service or product, is a smart idea to compete with large companies. Smaller businesses often succeed in filling the niche that large companies can omit and thanks to this, are able to serve unique products.
Tailoring the product and the quality of service to meet customers' needs is a great chance to keep the clients by your side. If you, as a smaller business, are also able to minimize the clients' costs, without loss of quality at the same time, you can be sure you won't lose the client. The key to deliver a tailored offer is to know the clients and to be aware of industry trends. The way the cooperation between a smaller business and a customer looks like – close relationship and honest feedback – helps to provide the product with all necessary functionalities.
Open-E Partner Program
We know what we're talking about, because we cooperate with a number of leading storage solution providers. We make every effort to treat each of them individually and according to their specific needs. We work closely with leading technology hardware and software vendors to ensure interoperability with our software. Our alliances include technology industry leaders such as Intel, VMware, Supermicro and many more. Our authorization is also a guarantee of compatibility, quality and trust that we confide in our partners. Our logo endorses industry-leading hardware manufacturers. This is why we are confident that every implementation based on our software will be successful.
Apart from many benefits, joining the Open-E Partner Program allows you to participate in Open-E Certified Engineer Trainings (OECE) and certifications, and to take part in the Open-E Certified Storage Server Program (OECSSP).
If you wish to join our vast network of industry experts and practitioners and become an Open-E Partner, visit the Open-E website >>
Leave a Reply