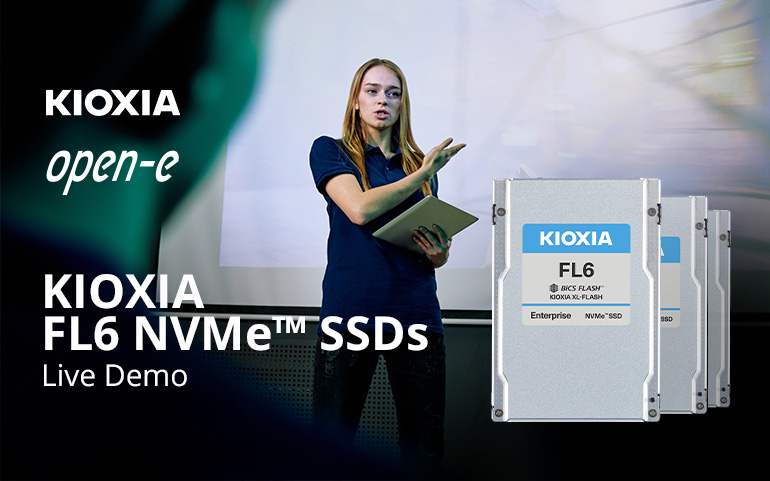 The long-lasting and fruitful cooperation of Open-E and KIOXIA Europe GmbH, a worldwide supplier of flash memory, SSDs, and software solutions, has resulted in releasing a certified solution that meets the highest storage demands. 
High Performing Solution for Your Data Storage Appliances
A couple of weeks ago, we officially announced the successful certification of the powerful KIOXIA FL6 NVMe™ SSDs with Open-E JovianDSS, a data storage software product designed for businesses of any size. The announcement was done during CloudFest 2022, a worldwide tech event that gathers the brightest mind in the cloud, storage, and tech industry. Just take a quick glance at how it looked like there – that was our first regular event after the pandemic break and it was a blast.
But the main point of this article is to share with you some useful resources about the testing and certification process! 
Now to cut the long story short, the modern data storage market requires solutions with exceptional characteristics. The most crucial of them are:
High capacity
High speed
Affordability
Long lifespan of data storage parts
Low latency
Sensible power usage
The icing on the cake of those demands is a reasonable price-performance ratio, which makes building storage solutions even more complicated nowadays.
Fortunately, there are the KIOXIA FL6 NVMe™ SSDs, which in conjunction with the Open-E software, rode on a white horse to the storage market, solving problems and fulfilling the demands.
But all jokes aside. How do we know the solution is so worthy of attention? Well, the SSDs and software were tested in the Open-E labs in two data storage scenarios: serving as cache devices supporting both write operations (write log) and read operations (read cache), and as data drives in the All-Flash data storage appliance. The results turned out to be more than satisfactory!
Live demo of KIOXIA FL6 NVMe™ SSDs with Open-E JovianDSS
Our specialists got impressed with the performance of the tested SSDs. The results were so remarkable that we have decided to share with you a live demo of the solution during which we dig deep into the topic, highlighting the reasons for our astonishment. The video was broadcasted during CloudFest 2022 too, and we got a lot of positive feedback about it. So, there it goes, we share it with the world.
Watch the video below.
As you could see yourself, KIOXIA FL6 NVMe™ SSDs can adjust to a variety of purposes in data storage setups!
Thanks to the speed and capacity the SSDs proved their outstanding performance as read and write caching devices for HDDs, as well as data drives for all-flash storage solutions. It is indicated that KIOXIA FL6 NVMe™ SSDs are universal and can be implemented in a variety of setups.
Open-E recommends KIOXIA FL6 NVMe™ SSDs for data and cache devices. Thanks to the combination of performance, low latency, and high endurance, they indeed support clients' common workloads, like databases, virtualization, online transaction processing, and virtual infrastructure.
"With FL6, KIOXIA has released a flash-based storage-class memory SSD with PCIe Gen 4 Interface, which is cost-effectively bridging the gap between DRAM and TLC-based SSDs. We are happy that Open-E as a trusted supplier for Software-Defined Storage systems and as an Expert in Storage Tiering has tested and certified FL6 under the latest Open-E JovianDSS version. We trust that customers will appreciate FL6 superiority within Storage Class Memory products and the benefits FL6 is offering to Server and Storage Systems."
Frederik Haak, Senior Manager – SSD Marketing and Engineering at KIOXIA Europe GmbH
Want to know more?
Find a detailed story behind this project of Open-E and KIOXIA by reading a Solution Brief on this topic.
Download the Solution Brief here >>
If you need some specific technical details of the testing and certification, take a look at the Certification Report. The document includes charts with performance and latency results if you seek a visualized proof of the test results.
Download the Certification Report here >>
We strongly encourage you to drill down into the above-mentioned documentation and, above all, to watch the live demo.
Leave a Reply