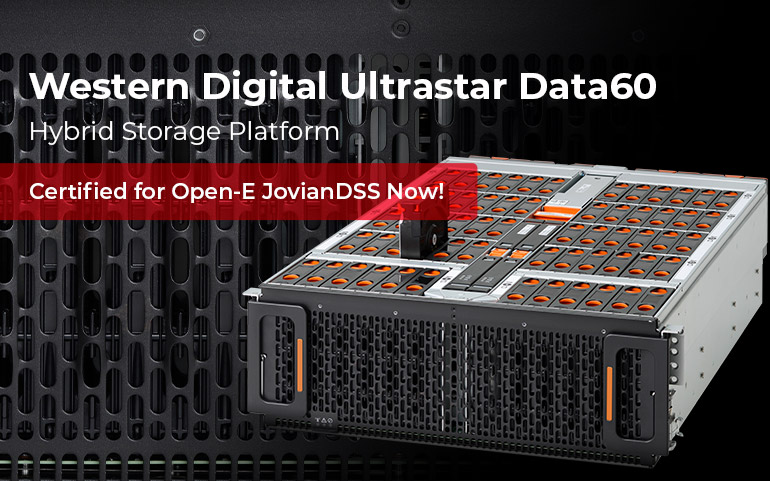 At Open-E, we place a lot of effort into quality, therefore, all new hardware on the market is tested and certified in our labs before it's recommended to use with Open-E products. For many years we have been cooperating with top hardware manufacturers such as Western Digital, to provide our partners and customers with the latest hardware solution, ready to be implemented in their data storage setups. Recently we had the opportunity to test the Western Digital Ultrastar Data60 Hybrid Storage Platform, and we have finally included it on our Hardware Compatibility List.
Western Digital Ultrastar Data60 provides the next generation disaggregated storage, flexible to specify the HDD and SSD combinations for balancing capacity, performance, and cost, which makes it a good choice for the Software-Defined Storage solutions, such as Open-E JovianDSS. The platform has been designed to meet the growing demands of:
Enterprise customers

Cloud service providers

Big data

SDS environments

Cloud infrastructure

Private storage OEMs 
Perfect fit for Open-E JovianDSS
Let's see what our CEO, Krzysztof Franek has to say about Western Digital Ultrastar Data60 Hybrid Storage Platform:
"Western Digital Ultrastar Data60 Hybrid Storage Platform is a perfect fit with the Open-E JovianDSS, the comprehensive SDS solution, designed for Enterprise and Cloud architectures. We have worked with Western Digital for years now to provide our customers everything they need in terms of reliable and flexible data storage setups".
Open-E JovianDSS works seamlessly with WD Ultrastar Data60 Hybrid Storage Platform to provide a stable data storage infrastructure that meets the most advanced business requirements. Also, it is hybrid storage (SSD and HDD) so you can use the best of both worlds in the daily application of storage.
Used technologies
Thanks to IsoVibe™ Vibration Isolation Technology that provides suspension for the drives in the chassis, even when all drives are working hard, they are isolated from transmitted vibration. Also, by applying ArcticFlow™ Thermal Zone Cooling Technology, drives work on lower and more consistent temperatures resulting in lower power consumption, lower fan speeds, and higher reliability helping to maintain disks in a perfect shape.
Additionally, Western Digital Ultrastar Data60 Hybrid Storage Platform supports up to 60 Ultrastar HDDs (SAS or SATA), provides hybrid support for data acceleration tier with SSDs (SAS or SATA) in up to 24 of 60 drive slots, supports dual-port SAS for high availability or single-port SATA for low costs and comes with 5-year limited warranty.
Final remarks
Western Digital Ultrastar Data60 is worth considering if you want to have good quality and energy savings as well as a stable data storage solution. Also, it should be taken into account together with Open-E JovianDSS which provides the best performance with the Western Digital piece of hardware.
Leave a Reply