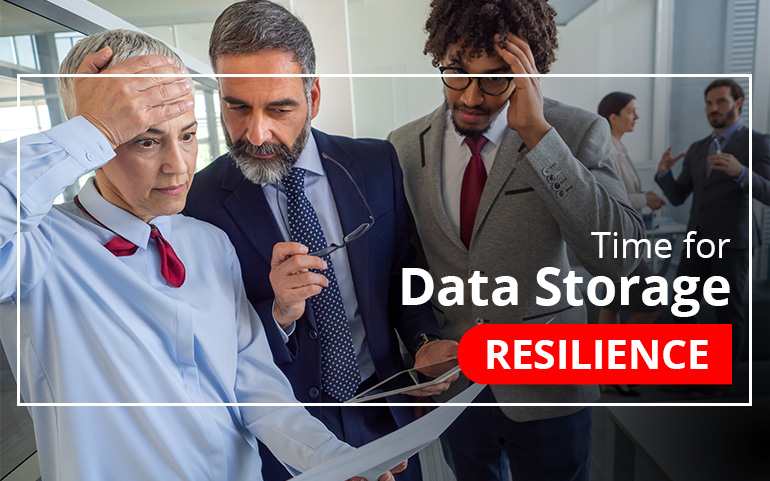 "At Open-E, we see how our partners and customers struggle with further market shocks. During the last few years, the data storage industry and our customers were exposed not only to the new pandemic reality, but also to hardware shortages, rising inflation, the war in Europe, the energy crisis, and the economic recession that follows it. The horsemen of the Apocalypse one could say. In the era of global disruptions, it's crucial to ensure the resilience of your business to be prepared for facing all the market, financial, and environmental challenges. And that was the top priority task for the end of 2022 and the upcoming 2023." says Kristof Franek, CEO at Open-E. Read on for Kristof's predictions for 2023!
State of Resilience
In the next few quarters, you should thoroughly examine the resilience of your IT architecture, especially if you want to be prepared to face multiplying and inevitable difficulties. Hyper-converged IT architecture and virtualization give you the ability to remain flexible, balanced, and scalable. But does it mean your business is already resilient? I'm afraid not. 
To achieve this goal you need to cut the bonds and dependencies that can lead to dependence on external suppliers or service providers. It's perfectly visible when we take into consideration your data storage infrastructure. Due to the hardware shortages and hardware locked-in policies of solution providers, many data storage implementations were delayed or postponed. What is more, it affected not only new projects but also existing setups because of e.g. spare parts delivery issues. How to avoid that dangerous dependence? 
Hardware-Agnostic Software
At Open-E, we believe that hardware-agnostic software is a fair deal for our partners and customers. We do our best to ensure the highest possible compatibility with the hardware that is available on the market. To do so, we cooperate with leading manufacturers, such as Toshiba, Intel, Seagate, Western Digital, Supermicro, and many more, to give you the right to choose the appliances that work best for them. Why is it so important? This way you can choose the hardware that is available on the market to replace the missing parts but also manage your budget by adjusting the hardware setup to the financial capabilities of your business. The surge in hardware prices can also be partly omitted by choosing commodity appliances in places of top-notch ones. 
Energy-Balanced Infrastructure
But that's not all. Thanks to the flexibility, in terms of compatibility options, you can also tune your data storage setup regarding energy efficiency, which is getting more and more important these days. One of the Open-E customers, a data center services provider, was able to save about 4 kWh per day thanks to the modernization of the hardware only. It's worth the effort for sure. It's also good to reconsider your infrastructure architecture. For instance, it may turn out to be far less power-consuming to centralize your data storage instead of using plenty of smaller servers. Going forward, you can also consider using virtualization to cover all IT needs by means of a single but powerful data center appliance to optimize energy consumption and electricity costs. 
2023 and Beyond
In the nearest future, the business environment might get tough, yet promising for all those who would be able to fit into the market and win the chances that would arise. To do so, it's important to build resilience that allows one to focus on the core business instead of fighting to minimize the consequences of unexpected market disruptions. 
Leave a Reply