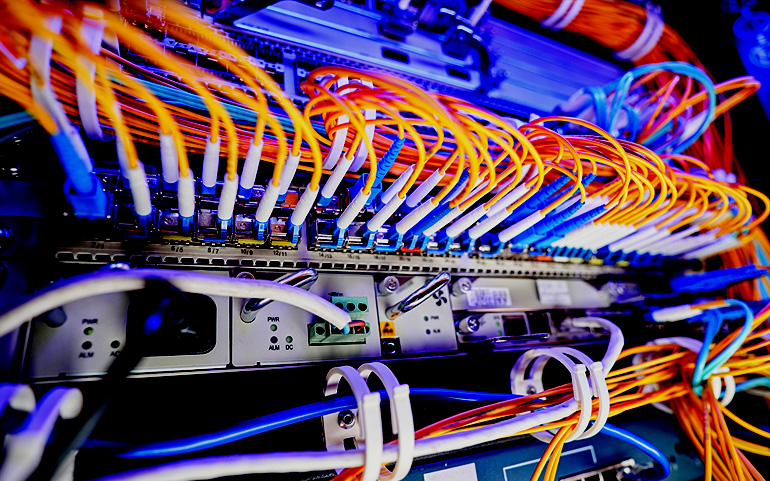 When it comes to data storage system creation, it is essential to make it as effective as possible for each type of enterprise and its IT infrastructure. This way, paying attention to the central business requirements to make the most matchable data storage solution becomes a great must. 
In this article, our Open-E Team will explain how to build an outstanding NAS SMB/NFS file sharing system with Open-E JovianDSS, covering this topic step-by-step:
What are the NAS SMB/NFS file sharing benefits?

What main issues may occur?

How can you configure one with Open-E JovianDSS?
Being interested in this topic, the first part of this article might be just a sort of a reminder or a slight intro for you. Ready? Then let us dive in.
NAS SMB/NFS File Sharing Advantages
Network-attached storage (NAS) file-level data storage allows multiple users and heterogeneous client devices (like Windows, Linux, or macOS) to reach and process data from centralized disk capacity as the network file protocols are independent of the client's operating system. NAS configurations are known for the simplicity of deployment and usage thanks to the data being recorded into shares created on top of data sets and not in blocks. In most cases, NAS volumes appear to the client as network-mounted volumes. 
In the case of Open-E JovianDSS, NAS can be set up with Server Message Block (SMB) and Network File System (NFS) protocols. You can check out the example of possible SMB configurations in the article about Open-E JovianDSS' compatibility with Microsoft products (with the software in a base of LDAP or a connection of the client's machine and, for example, Microsoft AD).
What are the Main Issues of NAS SMB/NFS File Sharing
So, what can go wrong when it comes to the NAS SMB/NFS implementations? It can be covered very generally:
The system can be not properly balanced regarding performance and storage capacity,

Network layer bandwidth or storage performance are not balanced with the number of users,

No possibility to expand the system in case of increasing demand for bandwidth or capacity.
When installing any kind of storage solution, you should take into consideration several issues that can be covered by three dimensions in the performance aspect. Particularly, if we talk about Network-attached storage, those dimensions will be relevant as well.
Storage capacity covers even two aspects of your data storage solution: the expected volume of data and a chance for its expansion. It is essential to think about the scalability in the planning stage, so that further potential expansions may be done quickly, cost-effectively, and with the smallest downtime (in case such an expansion will be possible). Next, you should analyze the expected number of users working on the server at the same time and the types of data stored. It is necessary for a proper bandwidth calculation, which is needed to identify how many mega/giga/terabits per second are needed for the data utilization. For example, when we talk about large files (e.g., media files, videos, etc.) and a small number of end-users, sequential read and write bandwidth plays an essential role. However, if we have huge amounts of small files being used by numerous end-users at the same time, we should make sure that the latency is as low as possible in order to achieve the highest IOPS value. The low latency stands for the less time needed to access the first byte of a stored file and is very crucial as it directly impacts the execution speed of operations.
Ideal NAS SMB/NFS Configurations With Open-E JovianDSS
Our Open-E Team has prepared an exact guide to the Open-E JovianDSS-based data storage configuration requirements depending on the needs of the client. You definitely agree that the best performance is a top priority for everyone, so let's have a look at the more specific preferences:
A large number of users
In order to reach the highest performance with a large number of users, you should pay attention to the following aspects:
Data Groups

should be formed with high-capacity NL SAS disk drives (for shared storage cluster) or high-capacity SATA disk drives (Single Node and  Non-shared storage cluster) SATA disks inside the server.

Read cache

should consist of a fast, read-intensive SSD with a large capacity.

The

network adapter

should have the bandwidth adjusted to the number of users using storage and balanced with the performance of the storage layer.

The configuration of Open-E JovianDSS should consist of a

2-way

,

3-way,

or, in the case of a non-shared storage cluster configuration,

4-way mirror

cluster may be considered for the higher safety level (however, it can affect the capacity).

Consider the

record size

in the range of

64KB

for a larger number of users.
Large capacity
If we focus on the capacity of the data storage solution, we should consider an implementation with these suggestions:
– RAID-Z2 or RAID-Z3 are highly recommended ( only in shared storage clusters or single nodes) to reach the highest level of capacity.
– The record size can vary in the range of 64KB-4M (4M for a smaller number of users and bigger files).
– In the case of a Single Node deployment, it is worth enabling the deduplication on the dataset in order to store a lot of files with a similar structure.
– If you expect a very large number of files, it is strongly recommended to turn on the Metadata Pinning feature in Console.
– It may be a good practice to have a disk controller with an additional external port to allow storage capacity expansion.
– As for the RAM, we recommend 64GB or even 128GB for more data caching. You can try to count it as 1GB RAM per 1TB of storage.
As an additional tip for macOS users, our Open-E Team recommends enabling the Spotlight support in Web-GUI's Storage Settings when setting up the NAS configuration. In order to learn more about Open-E JovianDSS working with those bitten apples, check out this article. 
Want to learn more about the possible configurations of Open-E JovianDSS and check which match you the most? Check out our Storage and RAID Calculator or contact our sales representative. 
Leave a Reply