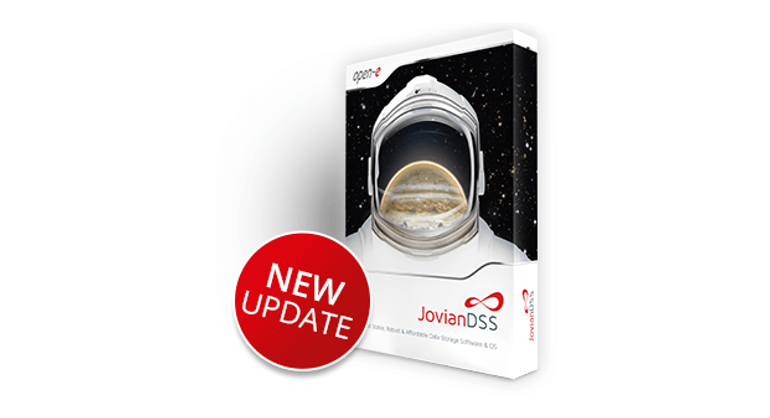 Great news for Open-E JovianDSS users! We would like to officially announce that the update 11 for Open-E JovianDSS is now available! Read this article to find out more detailed information and some useful advice on the new features for High Availability with Open-E Software Defined Storage.
Open-E JovianDSS key features
Open-E JovianDSS is a ZFS- and Linux-based data storage software aimed at enterprise users seeking a unified NAS or SAN solution with thin provisioning, compression and deduplication. Its users are provided with highest data reliability and integrity thanks to a set of unique features, like :
High availability
Tiered RAM and SSD caching
Data compression
Inline data deduplication
Data integrity
Thin and over provisioning
Unlimited snapshots and clones
Enhanced Open-E JovianDSS – what's new in up11?
In up11, Open-E JovianDSS has been enriched with the following features:
New High Availability Load-Balanced Cluster for NFS and iSCSI
Updated ZFS file system

With the High Availability Load-Balanced cluster for NFS and iSCSI, Open-E JovianDSS users can take advantage of even higher data security in cluster setups, and benefit from the software's Active-Active failover functionality. As High Availability is based on a setup of two servers, data is being saved on two server nodes. This way, in case one system fails, all critical resources are moved and restarted on the other node. Moreover, system administrators decide which volumes are active on which node, which increases the system's performance in an Active-Active configuration. The software was also updated to latest ZFS file system, which enhances the stability and performance of the software even further.
To get the update contact your respective Open-E Partner.
Still not sure?
If you want to get a first impression of the software and its updated features, try the  free Open-E JovianDSS Online Demo  on our website. This is a simulated version, thanks to which no installation is necessary.
Watch the video!
In order to support Open-E JovianDSS users with a widespread knowledge on Active-Active Load-Balanced HA Cluster configuration, we have published a detailed video tutorial, showing the process step by step. Our CTO, Janusz Bak, explains the Zero-Single-Point-of-Failure configuration, discusses the pros and cons of Active-Active and Active-Passive setups. Also, he describes the topic of iSCSI and NFS Active-Active HA Cluster  setup, together with High Availability cluster setup in a virtual environment with VMware. On top of that, testing the planned and unplanned failover.
Leave a Reply