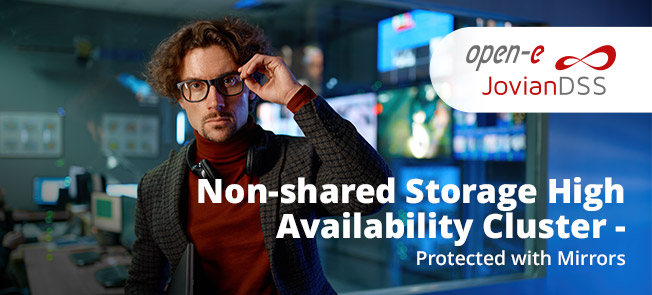 Deploying the High Availability – Queries and Doubts
Recently, one of our partners struggled with the problem of designing a Non-shared Storage High Availability Cluster consisting of two nodes stretched between two locations with separate data storage. The requirement was to prepare a configuration tailored to the end-user needs at a preferably low price. They considered implementing one of the RAID-Z redundancy levels,  but providing such a build is less efficient and much more complex. Thus, we tend to persuade our clients to implement one of the mirroring configurations instead. The main question they asked was:
"Why are there only mirroring redundancy levels offered in the High Availability cluster, if it's done at the expense of the space efficiency?"
The Expense of Space
The reason is that in the case of the RAID redundancy method, data and checksums would be spread across all available drives on both non-shared storage nodes. This is what gives RAID the possibility to keep the data in case of losing one or more drives. But if you implement RAID across two nodes, the loss of access to any of these nodes would result in data not being accessible or – in the worst case scenario – completely lost, which makes the whole implementation useless, and the data storage not 'Highly Available' at all!

There is no point in looking for any other workarounds because it makes the whole implementation convoluted and not efficient. In the long term, this may be problematic and complex to manage, while the risk of losing data is still high. Hence compromising the space efficiency gives you more insurance about data safety but also results in high pool reliability, read/write speed, and performance rating while still being incomparably safer to implement.
The Challenging Skill of Decision-Making IT Administrator Should Have
Ok, but let's get back to our real-life example. Once we convinced the customer to use mirror redundancy, another decision had to be made. It's crucial to keep in mind, what was the main goal here – saving money without losing much on safety, performance, scalability, and data availability. It's a High Availability cluster, so that's the main guideline. Both the 2-way and the 4-way mirror have their pros and cons, so the next question arose.
"Is it necessary to invest more resources in more expensive solutions (4-way mirroring), or maybe the less expensive (2-way mirroring) is just fine and will be enough to provide safe and efficient data management?"
Therefore, the next main task for Open-E was to suggest and explain which mirroring method would be best for the customer's needs at a reasonable implementation and maintenance cost.
Mirror, mirror in the cluster – which way's safer, which way's faster…
In general, a 2-way mirrored redundancy is better in terms of space efficiency than a 4-way but is also less tolerant of disk failures. In the past, we'd rather discourage customers from using the 2-way mirroring, because it's less safe than the 4-way. HDDs (which were more commonly used at the time) tend to be more prone to damage per their build and slower than flash drives. Spending more resources on a 4-way mirror data redundancy built with HDDs seemed like a more efficient solution in the long term. Currently, since SSD and NVMe drives are widely available at a lower price, we don't persist in using the 4-way mirror in every single use case anymore, although we always stress that the better the redundancy, the more secure the system becomes. The lower price of flash drives nowadays makes both solutions worth considering and gives more options to choose from. Thanks to this you can now choose between a 2-way mirror built with SSD/NVMes, or a 4-way mirror consisting of HDD storage, taking into consideration more business needs and requirements than before.
However, there are some key differences between a 2-way and a 4-way mirror method. The main one is the storage capacity available to keep the produced data and those which are mirrored to keep redundancy. A 2-way mirroring gives you 50% of pool capacity for both equally. Unfortunately, a 4-way mirror lowers the amount of storage reserved for production data to 25%, but in return, the pool reliability grows. It's because the more capacity you have on the redundant data, the more safe it is.
Design and Calculate
There's no better way to plan the storage backup architecture and illustrate its efficiency than the Open-E JovianDSS Storage and RAID Calculator. It allows for checking the 2-way and 4-way mirror pool expected specification by providing respective parameters.
In the first part of the report, calculation parameters show the basic information for both implementation types:
overall storage capacity (usable and single-disk)
the redundancy level
the number of disk groups, including the number of drives in each
But except that it gives something more. The detailed calculations chart below provides precise information on storage capacity:
pool storage characteristics with:
usable data storage capacity

detailed storage calculations
the pool performance rating

the expected annual pool reliability
space efficiency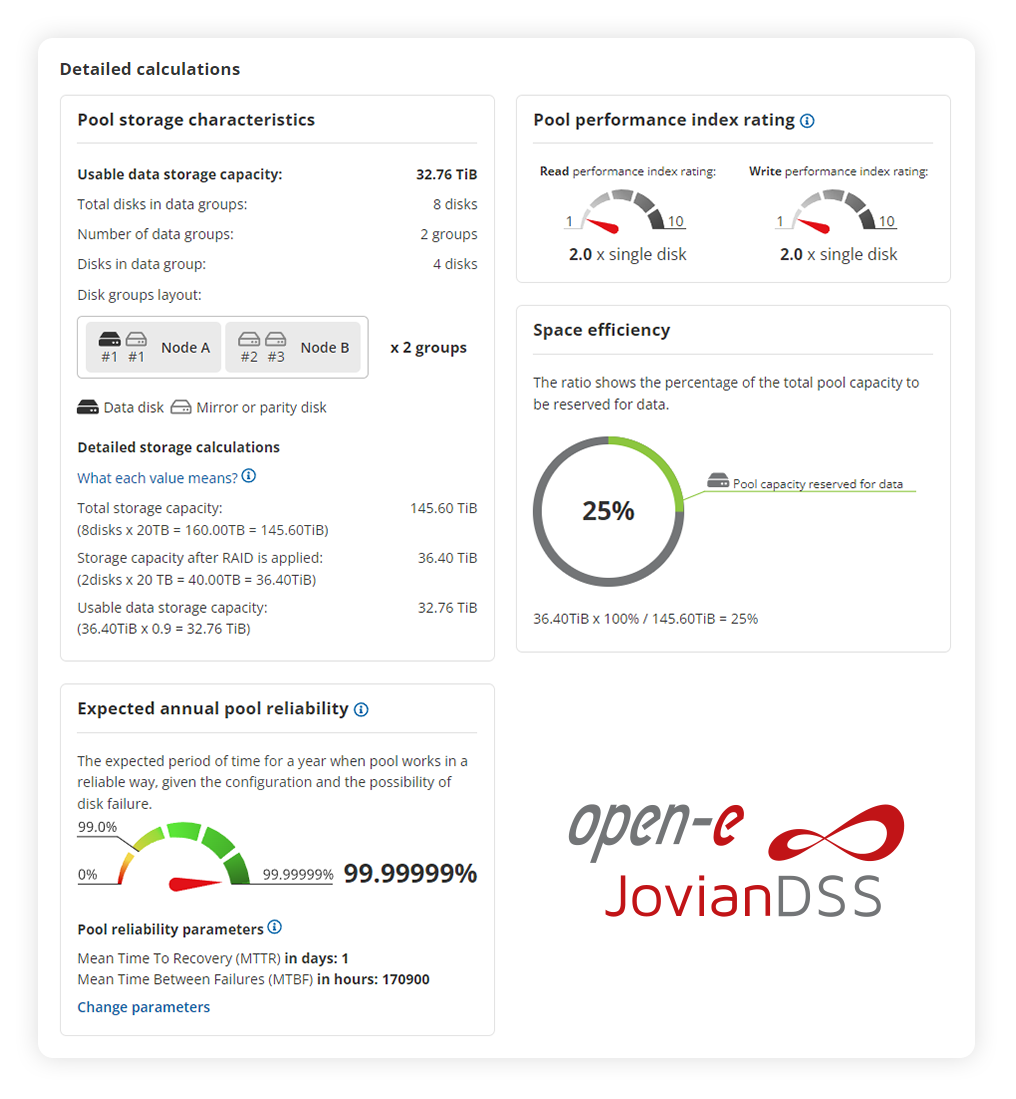 The final flourish is the system summary provided in a nutshell. It provides you with all the above-mentioned in a comprehensive but compressed form, making it simple to compare the results (pool comparison) and draw conclusions. These values allow for comparing which mirroring 'way' gives the best and worst score in each category. Once users determine which factor is most important, they can plan how to invest money wisely and decide if they can save resources on others.

The Challenging Skill of Optimizing
Once deciding on a particular mirroring method, you should always think about what your business relies on most. Is it space efficiency, and you do not want to sacrifice the available pool capacity for the data you produce or resources on more drives? But maybe it is the data storage pool reliability and data safety? Answering these questions is crucial before choosing between a 2- or a 4-way mirroring and would be the first step in designing your storage pool wisely.
Data storage administration is a broad subject, also regarding money investment. Not always more means better. Not always spending more means spending efficiently. That's why managing an IT infrastructure is a complicated task. The person involved needs to understand the system from a data storage and finance/logistics perspective. Once investing money, IT administrators should make the CEO or CFO aware of how and how much to invest. This is imposed by the specific type of business sector, and therefore the type of data the company keeps and exchanges.
Leave a Reply