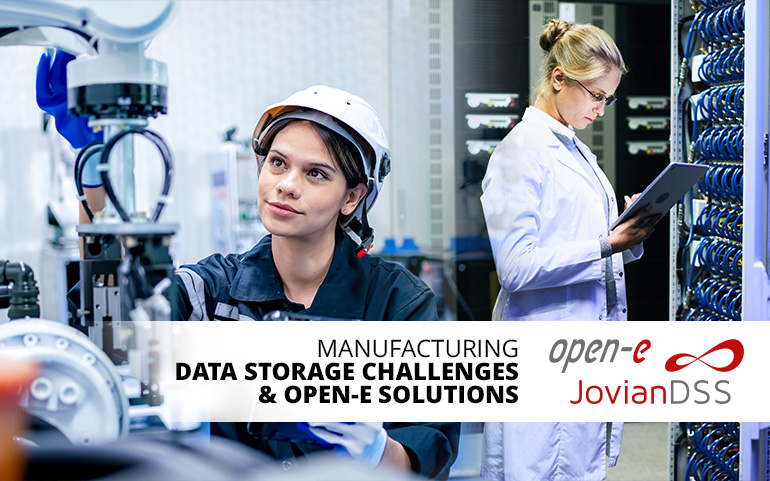 Manufacturing creates products and challenges for data storage administrators. The assembly lines become more dependent on technology and different kinds of sensors – from the ones that measure factors like the wear rate, to others such as counting the number of produced goods. This results in generating massive amounts of data that must be stored and protected. Such data may come in handy or even be crucial to identify the source of a problem that can possibly occur during the manufacturing process. Storing and securing all of this data becomes a challenge. It gets even harder, considering that production sites are often located in places without a good communication infrastructure. While there are many ways for storing and transferring data you should go for the most efficient and cost-effective solution. But there is also a question that needs to be answered:
What Kind of Data Storage Strategy Should I Choose for My Plant Purposes?
On-site solution
Starting with the most simple ways: you can store data fully on-site and even build a High-Availability Cluster connected to a local backup server. You can place each of these in different fire compartments for higher protection. But even by doing so, you can't rest assured that your data will be safe in case of an earthquake or other destructive forces of nature. Also, let's not forget about human errors and bad intentions. Simply with this configuration, you can lose data due to physical impact on your hardware.
Cloud solution
On the other hand, you can transfer all of your data to cloud data storage. It will be safe online, but you are also going to reckon with the costs that a third-party provider charges for data storage capacity and data transfer available. Uploading and downloading will also cost you extra time (depending on the network connection).
Hybrid Solution
You can also go for a hybrid solution – storing the data you need on a daily basis with an on-site (on-premises) server and creating a cloud backup (using a third-party solution). This may seem safer, but yet it may be not the most cost-effective in terms of Total Cost of Ownership (TCO) and it's relation to performance.
When choosing a proper data storage solution, you should also consider creating your own architecture, independent of third-party service providers. You can set up an on-site server to process the hottest data and store it for daily use. Additionally you can create a backup server in the same location to support local data storage or set up an off-site backup server located in another geographic location.The same goes for creating an archive server. It can be placed locally or data can be sent to other places, according to your choice and needs. What is important here – this solution is totally on-premises, meaning that you avoid the additional costs that tools provided by a third party may be charged for maintaining the used space and transfer.
The Location Challenge
Speaking of storing data locally and sending it to other locations, we should also underline a simple statement that… every production plant is located in a certain place.
In some places there won't be any (decent) communication infrastructure built yet, which means you have to create one yourself! So what would be the best way to store data in your case and for your purposes?
Your In-house Data Storage Solution
Open-E JovianDSS is a perfect match for this challenge, providing you with tools to manage your software-defined storage. This solution can turn out as the most efficient, even when other options are available, because storing data in-house will let you avoid the high costs of data transfer. We call it edge data storage which means that you collect data directly from the devices and store it in the same place. Considering that manufacturing processes generates an enormous amount of data, edge data storage gives you an option for a fast gathering of data and lets you process it locally to minimize the time and cost of data transfer. Depending on the importance of data within edge storage, it can be overwritten overtime and/or you can free up the space by sending processed data to further parts of your data storage infrastructure. All this leads to reducing your Total Cost of Ownership (TCO) and saving your money which can be distributed to other important areas of your business activity.
With the budget-saving feature covered, we can dive deeper into…
How To Manage Data Storage With Open-E JovianDSS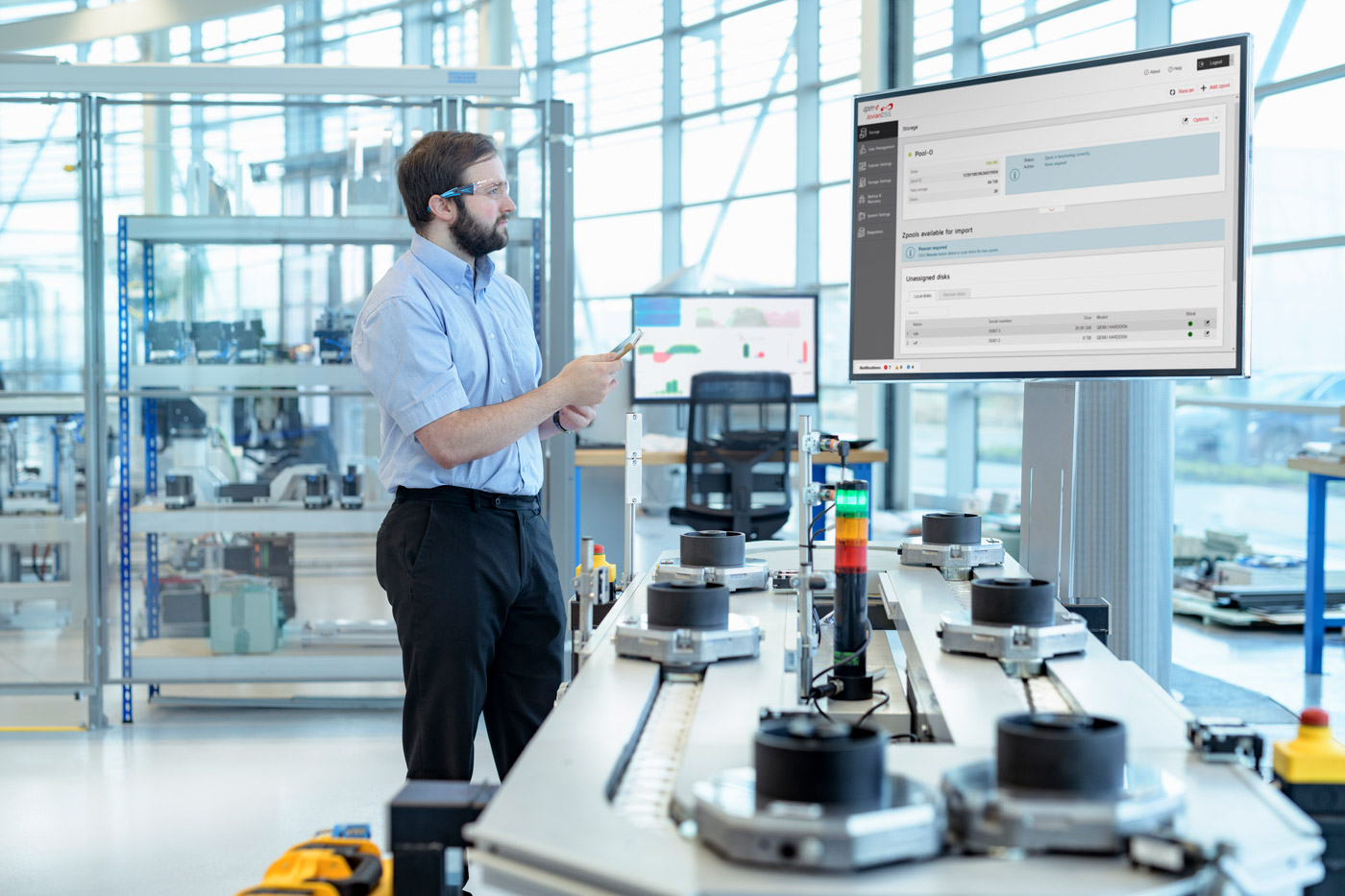 With data coming in from multiple sources and in multiple forms, Open-E JovianDSS provides you with a feature to store data in multiple formats – like structured and unstructured data – and then lets you manage your data storage in a single view. This may come in handy when you store data from multiple systems like Warehouse Managements System (WMS), Manufacturing Execution System (MES) and Enterprise Resource System (ERP). Keeping this data centralized and consistent is crucial for effective work on a daily basis and provides your co-workers with a single source of truth, which gives them access to the most recent version of the data they need.
How Open-E JovianDSS Can Support Data Storage Growth
Let's start with tools for Thin and Over Provisioning. Those features within Open-E JovianDSS will let you flexibly expand your data storage capacity as well as create a software environment for further expansions that you can plan.
We should also mention the fact that Open-E JovianDSS is hardware-agnostic software. This means that while expanding your data storage architecture, you can combine hardware from multiple vendors to expand total data storage capacity with components of your choice, getting a solution tailored to your budget. You can use HDD, SSD and NVMe disks or combine them depending on the purpose and type of connection and relation between these.
But the growth itself is nothing if your data is not secure, so when deciding to use our software, you may ask…
How Open-E JovianDSS Provides Data Storage Protection?
Data that holds information about your production status must be coherent at all times. This can be achieved with one of the features provided by ZFS which Open-E JovianDSS is based on. The self-healing of data checks its consistency and corrects it when any inconsistencies are spotted. This ensures data reliability at a very core level.
Once we are sure that the data is consistent, we can create a snapshot and save the exact version of your data at a certain point in time. The immutability of data that snapshot holds can be useful in case of human error, deliberate actions or when a ransomware attack occurs. In these cases you can simply go back to the version of that data from any moment before the attack and restore it like nothing has happened. With Open-E JovianDSS you can also create a retention plan and select how often the snapshot should be taken, and how long it should be kept.
But imagine there is a fire in the server room or it gets totally destroyed by other forces of nature like hurricane, earthquake or flood. You should also consider that someone may want to simply steal your data or destroy it (along with your data storage infrastructure). All your locally stored data would be lost. How to avoid this scenario?
You can send backup of your data to geographically different locations and store it there to benefit from the maximum data protection provided by Open-E JovianDSS On- & Off-site Data Protection feature.

All of this is just a sketch of what Open-E JovianDSS lets you do. If you want to explore all features of this robust solution, you can check it here as well as download a free 60-day trial!
Our software was used in over 39 000 installations across 100 countries. Feel free to check the stories of other companies that benefit from using Open-E JovianDSS.
We hope that with our help, your storing data from your production processes will be more safe and efficient than ever and that using Open-E JovianDSS will help to expand and secure your data storage in the best possible way.
Leave a Reply