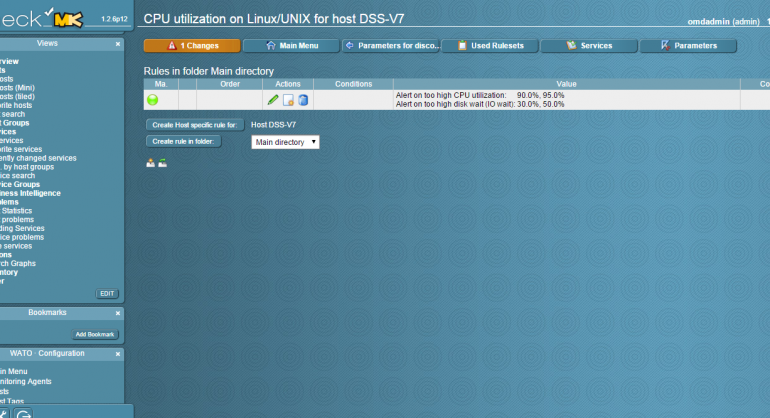 NOTE: This article and included resources may contain a name of a product formerly known as Check_MK. Currently, the product name has been changed to Checkmk.
Checkmk is now included Open-E DSS V7!
Find some datailed information in our CDPS manual, in which we describe step-by-step how to set up monitoring with the Checkmk tool. This useful tool is already implemented in Open-E DSS V7. In JovianDSS in turn, the Checkmk is offered as a small update. Contact Open-E's Support Team in order to get the small update for Open-E JovianDSS. But before you dig into the document, we would like to present you a "mini-dictionary" containing the most essential terms:
Nagios – Free, open source application for system, network and infrastructure monitoring. Nagios software application alerts also services for servers, services, switches and applications in case a problem appears and then alerts one more time, after the problem has been resolved.
OMD (Open Monitoring Distribution) – Bundles Nagios together with many important add-ons thanks to which users can avoid compiling and integrating Nagios add-ons manually . It can  be installed on every major Linux distribution.
Checkmk – An extension to the Nagios which enables creating a rule-based configuration with Python, as well as offloading users' work from the Nagios core. This makes  it even more scalable as various systems can be monitored from a single Nagios server. This means,  that it supports user definable views and is able to display the status of several sites in one combined view. A very intuitive design is one of the strongest benefits of this tool.
CDPS (Cloud Data Protection Service) – An Open-E solution that is available with the MSP of your choice. After your MSP installs a powerful Open-E NAS server at your location, CDPS enables your data to be encrypted and transmitted online to your MSP on a regular basis (e.g. hourly). The data are saved continuously by your MSP which means that in case the data  have been deleted accidentally,  they can be easily restored.
MSP (Managed Service Provider) – A company that enables you to outsource management responsibilities, functions and methods to improve the operations management and to cut the overall expenses.
Click on some of our screenshots of Checkmk or visit the Checkmk website.
Webinar: Monitoring Open-E DSS V7 and Open-E JovianDSS with Checkmk
Watch the latest Open-E video and learn everything about how to monitor your Open-E DSS V7 and Open-E JovianDSS with the Checkmk tool. The topics the video covers are as follows:
Installing Ubuntu Server 14.04 LTS
Update and upgrade
Installing OMD
Generating an SSH key in Open-E DSS V7 and JovianDSS
Configuration of Open-E DSS V7 and JovianDSS monitoring in Checkmk
Setting up the e-mail server for e-mail notifications
Testing typical events
Leave a Reply