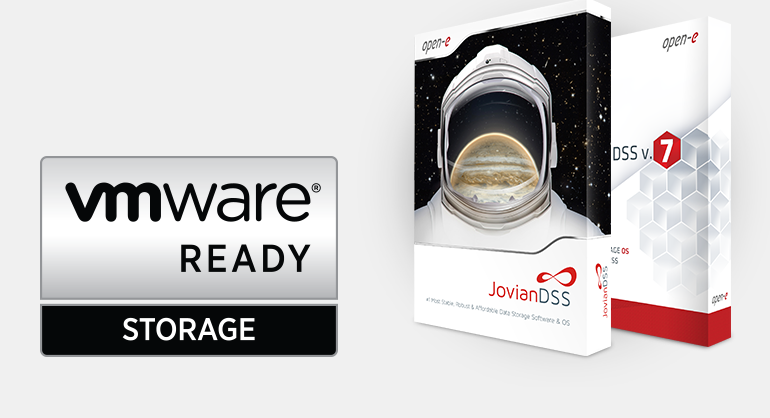 Open-E proudly announces that  Open-E JovianDSS and Open-E DSS V7 received the VMware Ready™ verification
The VMware Ready™ designation indicates that after a detailed validation process Open-E JovianDSS and DSS V7 have achieved VMware's highest level of endorsement, and can be found on the VMware Solution Exchange (VSX) website.
"We are pleased that Open-E's DSS V7 and JovianDSS products qualify for the VMware Ready™ logo, signifying to customers that they work effectively with VMware vSphere®, and can be deployed in production with confidence."
Howard Hall, senior director, Alliances, VMware

By using Open-E JovianDSS and Open-E DSS V7 with VMware vSphere® 5.5 and 6.0 enterprises can achieve business continuity and architect HA storage setups.
The VMware Ready program is a co-branding benefit of the Technology Alliance Partner (TAP) program that makes it easy for customers to identify partner products certified to work with VMware cloud infrastructure. Customers can use these products and solutions to lower project risks and realize cost savings over custom built solutions.
All Open-E software is VMware Ready™!
Unlike competing applications, Open-E has been around long enough to be honored with such recognition like the status of VMware Ready, not only for the latest software-defined Open-E JovianDSS. Our popular storage software OS, Open-E DSS V7, is also certified as VMware Ready. By using Open-E DSS V7 with VMware vSphere® 5.5 and 6.0 enterprises can implement a high availability virtualization infrastructure. Both Open-E Jovian DSS and DSS V7 fully support VMware vMotion – a solution that uses live migration to move running virtual machines between hosts with no downtimes.
"The certification of Open-E DSS V7 and JovianDSS continues our partnership with VMware and proves the effectiveness of our products. By using Open-E's DSS V7 and JovianDSS with vSphere 5.5 and 6.0 enterprises can implement a high availability virtualization infrastructure."
Krzysztof Franek, CEO and president of Open-E
Read more in the Press Release >>
Leave a Reply