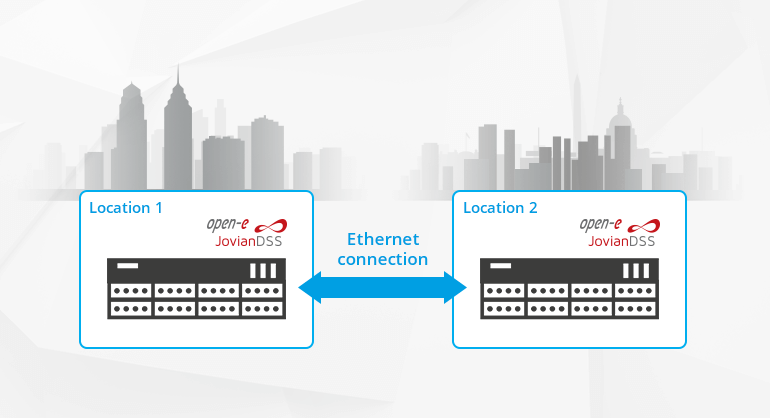 Open-E released a major update for its software-defined storage application, and the Open-E JovianDSS update 19 is now available on our website! The main feature of this update is the Ethernet HA Cluster functionality that can be used with the new Advanced Metro HA Cluster Feature Pack. Learn more about the update and download it on our website now.
Cluster over Ethernet HA Storage Solution with Open-E JovianDSS
Open-E JovianDSS enables you to architect High Availability storage environments for SMB/CIFS, NFS and iSCSI protocols with High Availability Clusters via Ethernet, SAS or Fibre Channel connections. With such solution users benefit from highest reliability and redundancy by eliminating single points of failure, as well as from a continuous availability of physical or virtual environments with all data and applications located on them. The new Open-E JovianDSS Advanced Metro HA Cluster Feature Pack enables users to build a High Availability Cluster with two nodes connected via Ethernet.
This type of clustering ensures a constant access to all your mission-critical data and applications even in case of a massive failure. For an efficient use of all hardware resources and uninterrupted workflow, continuous availability and data protection, all nodes are running in an active mode. An Ethernet Cluster solution is also highly flexible, as it can be implemented either in one rack or can be used as a Metro Storage Cluster / Stretched Metro Storage Cluster.
How does it work exactly?
A Cluster over Ethernet consists of two separate nodes. Let's call those nodes Node1 and Node2. Both Node1 and Node2 have their own hard drives attached directly to them. Consequently, all hard drives on Node1 are shared with Node2, and the other way round as Node1 and Node2 are connected directly to each other over Ethernet. This way, after an internal conversion of the protocol, each node can "see" all the hard drives in the cluster, but the counter node's drives are marked as 'Remote Drives'. Cluster redundancy in turn is achieved thanks to mirrors between the local and Remote Drives. Strictly speaking, the data is being duplicated by mirroring the drives from one server to another system.
Since the connection of cluster communication and data mirroring between nodes are via Ethernet, the nodes might be located even up to 50 miles / 80 km apart.
As an active-active dual node cluster, the system provides load balance for the used protocols due to active pools on both nodes. This way, in case Node1 fails, Node2 takes over its services and the pools from Node1 are immediately activated on Node2. The same procedure is undertaken in case of Node2 failure, which means load balance on both nodes enables their full resources utilization.
Open-E JovianDSS High Availability Feature Packs
To sum up, Open-E offers two options to create a High Availability Cluster environment:
Update 19 – there's more!
Update 19 includes also S.M.A.R.T. attributes in the logs. With this type of system monitoring, all disks are now available in the log files of Open-E JovianDSS, so that users can easily detect indicators of drive reliability and avoid disk failure. To view the whole list of new features, updates and fixes, read the Release Notes >>

Leave a Reply