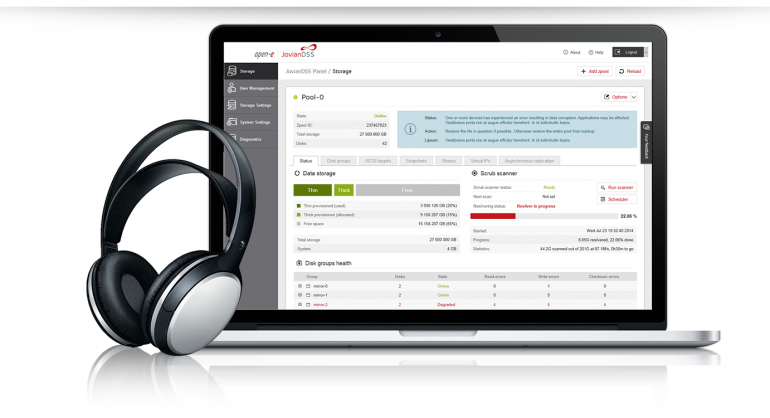 Open-E is pleased to invite you to watch our recently recorded webinars containing plenty of useful information about the ZFS-based Open-E JovianDSS Software Defined Storage. Open-E webinar sessions are designed to provide up-to-date information on how to implement, configure and use the key features of our software – all with lots of practical solutions and tips.
Data optimization with Open-E JovianDSS De-duplication and Compression
This webinar  is all about optimizing your data with the Software Defined Open-E JovianDSS and its dedicated features.
Introduction to the demo environment
Creating a volume with De-duplication and Compression
Data optimization ratio with De-duplication and Compression
Benchmarking de-duplicated and compressed volumes
Auto Snapshots and Volume Clones with Open-E JovianDSS
With this webinar you will learn how to use Auto Snapshots and Volume Clones to keep your data safe.
Introduction to the demo environment
Rotational Auto Snapshots scheduled with a retention interval plan
Auto Snapshot setup and maintenance
Creating and accessing Volume Clones from Snapshots
Data Integrity by design – Self healing with Open-E JovianDSS
Protect your data from Silent Data Corruption with Open-E JovianDSS – watch this webinar to learn all about Self-healing, Check-summing and Atomic Transaction Writes.
Data and Metadata Check-summing
Self-healing: Detecting and correcting silent data errors with the Scrub utility
Silent Data Corruption emulation and Self-healing demonstration
Atomic Transaction Writes: Keeping data continuously consistent without the need for repairing the file system
Power failure emulation and power recovery demonstration
Open-E JovianDSS with HGST 4U60 Storage Enclosure
This webinar was held in cooperation with our Technology Partner HGST. Davide Villa, Sales Director EMEA at HGST, and Janusz Bak, Chief Technical Officer at Open-E are introducing the latest HGST 4U60 Storage Enclosure and explain how it works with our ZFS-based Open-E JovianDSS. As a part of the HGST Enterprise portfolio, the JBOD is especially suitable for High Availability storage applications.
Introduction to HGST 4U60 Storage Enclosure
Active-Active HA Cluster with Open-E JovianDSS using the HGST JBOD: step-by-step cluster setup, testing the failover, disk replacement demo, running the IOmeter benchmark
Find more Open-E JovianDSS Certified Servers here >>
Browse and view our recorded webinars and video tutorials. Let our experienced engineers take you through everything you need to know about Open-E software. To watch more videos simply visit the Open-E website  or subscribe for upcoming, complimentary webinars in your portal. You can also watch our videos on YouTube and Vimeo.
Leave a Reply