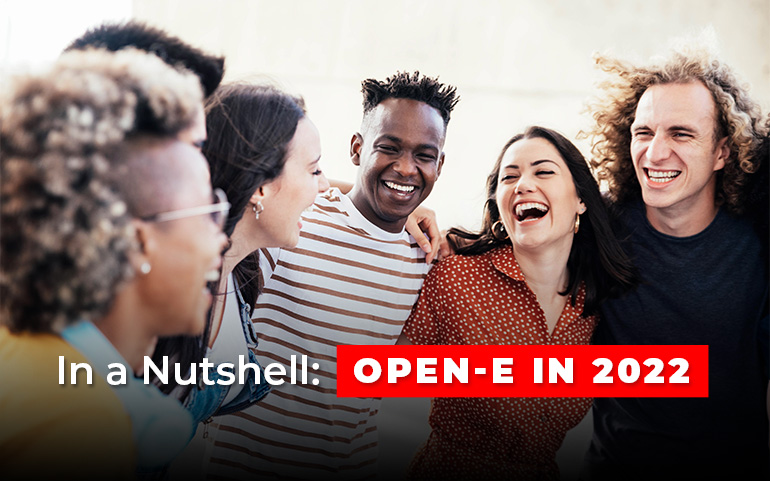 2022 was an intense time for Open-E. Needless to say, it was not an easy year and we suppose many other businesses are familiar with the situation. Still, we managed to continue dealing with the harsh consequences of the pandemic and also the harsh economic, financial, and political conditions. 
One of the reasons might be the fact that we strive to keep up with one of the most important mottos in the company – business is better together. Indeed, the previous year proved that in order to remain stable, reliable, and secure at all times, we need backup. Sometimes it's the backup plan for your IT environments, sometimes by backup we mean the people who support us. Thankfully, we got an astonishingly big deal of support from our partners, and our customers too! We can undoubtedly state that our work in 2022 reflected the product we develop – we're stable, reliable, secure, and flexible.
We are therefore all the more delighted to remain active and successful in the data storage market. Take a look at some of our accomplishments from 2022!
The Software
The proven Open-E JovianDSS, a ZFS- and Linux-based data storage software designed for businesses of any size, was updated with a bunch of remarkable updates. 
In the first half of the year, we released the Open-E JovianDSS Up29r2. This release was full of new functionalities, aimed at improving the software's usability and making it more convenient, which included:
The RDMA Protocol support, 

Self-encrypting Drives (SED), 

SSD TRIM functionality, 

NVMe Writelog devices mirror over Ethernet for a High Availability Shared Storage cluster, 
And many more!
The abovementioned new features were met with great enthusiasm. The second half of the year was marked by Open-E JovianDSS Up29r3 which in fact was much smaller than its predecessor. Still, we're proud that we managed to stick to our 2022 plan – 2 releases in one year. Even if Up29r3 did not contain this much of outstanding features, it contained novelties for more flexible data healing management, as well as improvements for better stability in high-load environments:
Advanced Scrub Scheduler

Watchdog Algorithm Optimization

MaxView Option

Drivers Update
If you're among those who could benefit from those updates, you should definitely stay tuned for the upcoming ones – we're sure you'll appreciate it!
Events
The previous year was also rich in events. We took part in the following events:
CloudFest 2022 in Rust, Germany

IBC 2022 in Amsterdam, the Netherlands

SC22 in Dallas, TX
In this case, images speak for themselves. Take a look at the gallery below to see how much fun we had during all those events!









Case Studies
We're also really proud to have published quite a number of success stories with our partners and customers. If you follow us carefully you know we had projects with data centers, furniture manufacturers, or audio registration systems providers – a really wide range of markets!
For those who can't recall, take a look at the list of our example successful implementations.
Open-E DSS V7 in the Aviation Sector
Nemix, a Spanish National benchmark in the deployment of IT solutions, also closely cooperates with the aviation sector. For a long time, the company had already been providing one of its main customers with the platform systems they use to build audio registration systems responsible for recording conversations between the airplane and control towers. Nemix, in order to improve the currently provided solutions, decided to design a more reliable and cost-effective solution to face new projects on the market. The goal was to find an effective way to record and store communication records while being compliant with all the legal requirements for these types of systems that had to be met. Nemix proposed a hyper-converged virtualized solution that reduces the required Systems to only two physical servers by using Open-E DSS V7 as the core for the storage.
Read more in the Case Study here >>
High Availability in the High Mountains
The Internet service provider Limitis GmbH has a competent and service-oriented team that supplies over 5,000 companies with its internet solutions every day. To survive in the competitive market segment and differentiate itself from the larger, international competition, Limitis aimed to be the distributor as well as the owner of their own products which were based on their hardware and IP addresses. After exploring the market, Limitis decided to collaborate with N-TEC. The close cooperation between N-TEC and Open-E also inspired Limitis to take a closer look at Open-E JovianDSS, which was shortlisted a few years earlier. 
Read more in the Case Study here >>
Broaden Data Storage Horizons for Unlimited Creativity
The Vanity is a boutique VFX house located in Toronto. The company specializes in visual effects, motion design, and coloristic, creating commercials and moving stories for top brands in the USA. To respond to the rapidly growing amount of data stored and processed as well as to the increasing number of artists in the team, Vanity decided to collaborate with CineSys. The Vanity has chosen a CineStor NAS data storage solution, powered by ZFS- and Linux-based Open-E JovianDSS data storage software as the current storage expansion.
Read more in the Case Study here >>
The Highest Security with an All-Flash Open-E jovianDSS Solution in a Data Center
MMiT, based in Kiel, Germany, is a renowned regional and national IT service provider, that provides its customers with an extensive range of services and solutions directly from its TÜV-certified data center. MMiT needed to shift to appropriate computing power and create a secure and future-proof maintenance strategy. Additionally, the new system should be able to provide the highest protection against the consequences of everyday threats (such as ransomware), as well as ensure fast data recovery in case of data loss. With such requirements for a clustered system, including also an intuitive backup solution they turned to N-TEC, the Munich-based server, and storage solution integrator.
As a result of many years of positive experience and satisfying projects with N-TEC and Open-E, a fully redundant storage system with Open-E JovianDSS as the software-defined storage (SDS) was proposed to meet MMiT's challenges.
Read more in the Case Study here >>
Scalable Solution for Geo-Engineering Center
Aviation Accounting Center LLC (AAC), a leading Ukrainian engineering company, is responsible for acquiring, processing, and providing geospatial data. The previous data storage solutions used by Aviation Accounting Center consisted of departmental file servers that were limited in capacity and had regular single points of failure. In order to meet all the requirements, AAC turned to Western Digital, an Open-E partner, for a solution. The chosen Ultrastar Hybrid Storage Platform with a ZFS- and Linux-based Open-E JovianDSS data storage software turned out to be a highly reliable and high-capacity data storage solution. 
Ensured Serenity with a Scalable Open-E JovianDSS-based Solution
Viasit is an established player in the office furniture market that required a reliable data storage solution to store the data safely. The data had to be easily accessible for all the employees in order to simplify the company's workload. To respond to the demand for a flexible, scalable, and affordable solution, Viasit chose EUROstor, a German hardware and storage solutions provider. EUROstor in turn recommended Open-E JovianDSS as the data storage software.
Read more in the Case Study >>
Additionally, we've launched a couple of amazing projects with our trusted partners.
Toshiba – Open-E JovianDSS-Powered Data Storage Appliances with Toshiba HDDs
The document explains the benefits of utilization of HDDs in your data storage solution, based on the example of Open-E JovianDSS-Powered Toshiba HDDs. Go to the document >>
Western Digital & ATTO – End-to-End Business Continuity Solution for Your All-Flash Data Storage Servers
In this document, you will find a detailed description of each element of this solution. The greatest benefits of the solution, like up to 1.3PB capacity backup storage and budget efficiency. Go to the document>>
Western Digital & ATTO – High Availability HDD Storage Cluster with RDMA Replicated Write Log for Excellent Performance
Read a detailed description of each element of this solution. The greatest benefits of the solution are e.g. compatibility, scalability, best price-performance ratio, and high data safety level. Go to the document >>
What else?
Apart from all the already mentioned facts, we have celebrated the fifth anniversary of our solution with Toshiba for a data center. The solution has been running flawlessly for already more than five years and it seems that it's going to work this way for another couple of years. Impressive! You can read about this solution here >>
We can't forget about the long list of our insider events and social actions within the Open-E life. Why do we mention it now? Well, soon we'll make a big announcement and with this announcement comes also a big deal of social actions. 
We can't wait for it! Can you guess what are our plans for 2023? Let us know in the comments!
Leave a Reply