Utilize the synergy of ATTO, Western Digital, and Open-E JovianDSS to ensure high capacity & excellent performance of your data storage appliance
In this document, you will find a detailed description of each element of this solution. The greatest benefits of the solution:

Best-in-Class ATTO and Western Digital hardware components and outstanding Open-E JovianDSS software
Up to 1.3 PB capacity-scalable data storage solution
All-HDD server supported by the read cache and RDMA replicated write log for the best price-to-performance ratio
High data safety level, thanks to the HA clustering and the RDMA replicated write log
Data storage software compatibility, thanks to the Open-E JovianDSS certification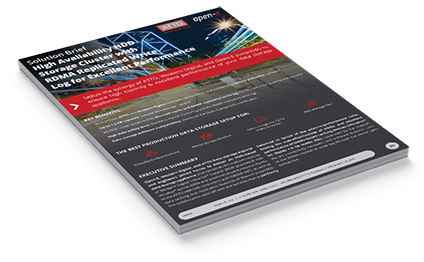 Customer Needs
The world of modern data storage solutions includes a broad spectrum of demands for implementations from HDD-based large-capacity storage setups up to high-performing All-Flash types of storage. Solution providers are challenged to develop solutions to meet different requirements, for instance:
Scalability
Cost-efficiency of HDDs
High performance of NVMe SSDs
Balance between TCO and performance
The combination of Western Digital hardware, ATTO adapters, and Open-E JovianDSS advanced caching features has been certified together and it is proved that the solution enhances the crucial parameters of the whole data storage solution based on HDDs.
Hardware and Software Specification
The solution consists of the following hardware elements:
ATTO ExpressSAS® GT HBAs (H1244GT) - a 4-Port External 4-Port Internal 12Gb/s SAS to PCIe 4.0 Host Bus Adapter built to handle the scalability and availability needs for the next generation of data processing.
ATTO FastFrame™3 100GbE NICs which are suitable for a wide variety of high-performance applications and provide a high-quality and high-performance experience. ATTO NIC supports the Ethernet standard in a single- or dual-port configuration.
Western Digital Ultrastar® Data60 Storage Platform, which provides up to 1.3 PB of raw storage using DC HC570 22TB CMR HDDs in a compact and efficient form factor. Ultrastar® Data60 addresses the demanding storage needs of large enterprise customers, as well as cloud service providers, requiring dense, shared HDD.
Western Digital Ultrastar® TB 3,5" SAS HDD Family, which enable an incredible capacity to maximize data storage, especially in footprint- and power-constrained environments. Performance-optimized for heavy application workloads
Western Digital Ultrastar® DC SN840 1.6 TB NVMe SSD, performance-optimized SSDs that target the cloud computing and enterprise workloads that require low latency and high availability of data.
As for the software, the whole system was powered by the ZFS-based Open-E JovianDSS. With Open-E JovianDSS users can achieve advanced levels of data protection since not only a High Availability clustering to ensure zero-downtime data accessibility can be utilized but also consistent data snapshots that can be stored both locally and remotely on the external backup machine. This way users can build their Business Continuity strategy against all the threats such as hardware failures, power outages, human errors, ransomware attacks, natural disasters, and much more.

"Our long-term partnership with Western Digital and ATTO gives us the opportunity to work closely with world-class data storage experts on the solutions that bring a brand-new value for our customers and resellers. And our latest project is a great example of this synergy."
Kristof Franek, CEO at Open-E
Conclusion
The technology used in the Western Digital, ATTO, and Open-E joint solution takes full advantage of the hardware components: the high capacity of the HDDs and the super-high performance of the NVMe SSDs that build an appliance that can meet even the most demanding requirements of the data centers and enterprise customers in terms of centralized NAS filers, media postproduction, CCTV, backup servers, or even virtualization, and more.