MMiT, based in Kiel, Germany, is a renowned regional and national IT service provider, operating directly from Germany's Internet hub, Frankfurt am Main. The company provides its customers with an extensive range of services and solutions directly from their TÜV-certified data center. Ensuring High Availability of your data, anytime and from anywhere is already a market standard. As a Cloud and Internet services provider, MMiT puts constant matching to the market and thoughtful response to customer needs as top priorities.
High Availability for two fire compartments within a data center
All-Flash data storage solution for the best performance
Long data retention time in the backup server (snapshots)
Fast and flexible storage extension options
Short recovery time
High data integrity
Affordability and cost-effectiveness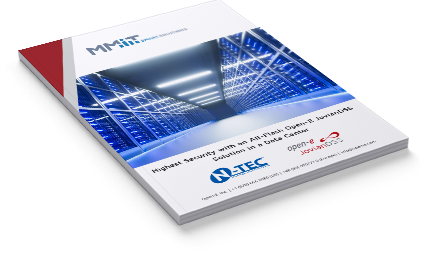 Challenges
Given the demanded performance and rapidly increasing volume sizes, a state-of-the-art, adaptable infrastructure became essential for MMiT. Thus, to have a field for the development and to correspond to the constantly increasing requirements, MMiT felt obliged to shift to appropriate computing power and create a secure and future-proof maintenance strategy. Additionally, the new system should be able to provide the highest protection against the consequences of everyday threats (such as ransomware), as well as ensure fast data recovery in case of data loss due to unexpected events, like fire, flood, thefts or just a power outage.
Tailor-made solution
With all the above-mentioned requirements for a clustered system, including also an intuitive backup solution, Oliver Timm, the managing director of MMiT, turned to N-TEC, the Munich-based server and storage solution integrator.
As a result of many years of positive experience and satisfying projects with N-TEC and Open-E, a fully redundant storage system with Open-E JovianDSS as the software-defined storage (SDS) was proposed to meet MMiT's challenges. Just as expected - the proposed solution fulfilled all their demands.
"I am amazed by Open-E's software – the Open-E JovianDSS. Countless administrative options including fully automated, round-the-clock backups have made our everyday life noticeably easier. N-TEC's approach to this project was extremely engaging and convincing. All expectations were fully met - and in most cases even far exceeded. It's not only our customers who now benefit enormously from this solution but we as a company too, as we were able to drastically reduce our time expenditure in many areas of activity. Especially the option of being able to restore data states - at any time, in the shortest possible time – gives us a sense of security. Our customers can rest assured that threats like ransomware attacks will remain a phenomenon that we only know from media reports."
Oliver Timm, Managing Director, MMiT GmbH
Protection against ransomware effects
Special attention was paid to the off-site backup server. With On & Off-site Data Protection in Open-E JovianDSS, this extra server is able to receive data directly from the metro cluster, and store an unlimited number of fully consistent snapshots according to a retention plan customized to their needs. MMiT is thus able to revert to any point in time that has been previously defined which makes it the no.1 solution for dealing with harmful effects of ransomware attacks.
Plus, On- and Off-site Data Protection feature is very flexible, as it covers a wide range of disaster recovery plans without the need to use additional third party tools. This ZFS technology allows building extremely versatile backup solutions. The smart part of this solution is the fact that only the data that has changed during the working day or within the snapshot cycles is replicated.
Compatibility and affordability
The solution proposed by N-TEC and Open-E is one of the most affordable on the market, so MMiT's inquiry for a profitable price/performance ratio has also been met. Exceptional savings were not the main factor in this project so the company has invested in a number of security layers to stay protected in case of any event, and yet the solution turned out to be very cost-effective.
"I'm looking forward to expanding our main system and purchasing our second backup server. Due to the continuous growth, we were able to upgrade all our systems with hard disks and licenses and respond as needed in an economic sense."
Oliver Timm, Managing Director, MMiT GmbH
Hardware details
| | |
| --- | --- |
| Server: | rapidNAS JSS224-G8 |
| Processor: | 2x Intel® Xeon® Gold 5122 Processor, 3.60GHz Basistakt, 4 Cores – 8 Threads |
| RAM: | 128GB DDR4 |
| RAID: | HW SAS RAID Controller with Supercap |
| Network Interfaces: | 4x 10GBASE-SR Ports |
| Writelog: | 2x 400GB SSD |
| Read Cache: | 1x 960 GB SSD |
| SSD: | 6x 3.84TB SSD |
| zPool: | RAID 6 – Active-Passive configuration |
| Storage Capacity: | 13,98TiB ca. ~15TB usable |