Cloudlayer8 (CL8) is a state-of-the-art Tier-III data center and Cloud services provider from Cyprus. The company needed a new software solution for its configurations of two off-site backup server setups, one of which was already using a Veeam Cloud Connect solution and the other, using a VMware VDC solution. Their previously used data storage software solution was generating errors on a regular basis.
The main requirements for a suitable storage solution included:
Low latencies and high IOPS performance
High Availability and load-balancing functionality
Good price-performance ratio
Support for Virtualization (VMware and Veeam)
Convenient usage with easy data access
Reliability and scalability of the software solution
Platform-independence, use with commodity hardware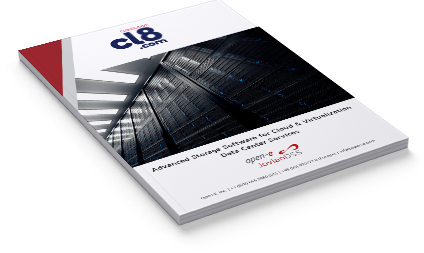 Challenges Faced
Due to their customers' evolving needs, CL8 keeps on adding new and innovative functionalities into what their solutions offer. That is why it became essential to find a software solution that would match the data center virtualization and advanced cloud features their company offered. This included compatibility with both of the VMware and Veeam software solutions that they used.
The Chosen Solution
Thanks to the company's previous experience with Open-E JovianDSS and its proven reliability, scalability, and price-performance ratio, the choice of the software solution was obvious. Since the Pre-Deployment process included the transition of both active production servers from one software solution to the other, there was a need to keep the data on them available to customers without any downtime. With the assistance of Open-E engineers, the data was smoothly migrated to Open-E JovianDSS servers without any complications. Additionally, both the data storage solutions using the VMware Virtual Data Center and the Veeam Cloud Connect virtualization software were expanded to a second node, forming High Availability Clusters.
Satisfied Customer
Since the systems started operating on Open-E JovianDSS, no more errors were recorded. The software solution has proven to work flawlessly with both CL8's VMware Virtual Data Center and Veeam Cloud Connect Offsite Backup Services. The systems gained additional performance thanks to being properly configured and ZFS' inherent file system characteristics. CL8 was very impressed by how well Open-E JovianDSS worked, especially on the servers using VMware VDC. So much so, that after some time had passed, they requested the VMware VDC configuration's extension.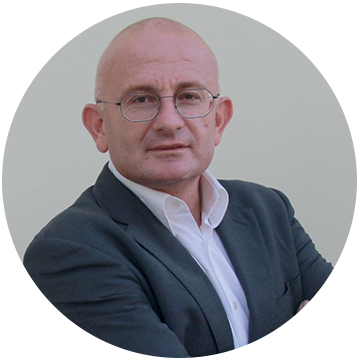 "Offering money-back guarantee SLAs for a data center is not easy, and reliable enterprise software is essential to have peace of mind! We've been using the Open-E JovianDSS system for more than a year. The product experience is very positive, as it is stable, easy to use, robust, and offers excellent performance. The High Availability Cluster has an outstanding price-performance ratio"
Theodosis Theodosiou, Business Development Manager
Hardware details
| | |
| --- | --- |
| Server: | SYS-2029U-TR4T |
| Chassis: | CSE-219U2TS-R1K62P-TN20 |
| Motherboard: | X11DPU |
| Power supply: | 1600W Redundant Power Supplies Titanium Level Certified |
| Processor: | 2x Intel® Xeon® Silver 4215 8 cores/16 threads 2,50 – 3,50GHz |
| RAM: | 256GB DDR4 2933 ECC (8x32GB) Micron 36ASF4G72PZ-2G9E2 |
| RAID: | 1x Intel® RAID modules RMS25CB080 |
| HBA: | 4x LSI SAS 9300-8E SGL, 8-Port ext. 12Gb/s SFF-8644, SATA + SAS |
| Network connection: | 2x Broadcom NetXtreme E-Series P210TP, Dual-Port 10GBase-T, 1x 4-port 10GBase-T adapter Intel® XL710 and X557 |
| Boot: | 2x 240GB SSD (Mirrored – RAID 1) |
| Write-Log: | RAM/SSD tiered Read Cache: RAM/SSD tiered |
| | |
| --- | --- |
| Server: | SYS-2028U-TR4+ |
| Chassis: | CSE-219UTS-R1K02P-T |
| Motherboard: | X10DRU-i+ |
| Power supply: | 1000W Redundant Power Supplies Titanium Level Certified |
| Processor: | 2x Intel® Xeon® Processor E5-2667 v4 8 cores/16 threads 3.20 – 3.60GHz |
| RAM: | 256GB DDR4 2657 ECC (8x32GB) SK Hynix HMA84GR7CJR4N-VK |
| HBA: | LSI SAS 9300-8E SGL, 8-Port ext. 12Gb/s SFF-8644, SATA + SAS |
| Network connection: | 4x Dual-Port 10GBase-T Intel® X540 |
| Boot: | 2x 240GB SSD (Mirrored – RAID 1) |
| Write-Log: | RAM/SSD tiered Read Cache: RAM/SSD tiered |
Storage configuration
| | |
| --- | --- |
| JBOD: | 4x SuperChassis 216BE2C-R741JBOD |
| SSD: | 96x Seagate Lange 3.8TB SAS 12Gb/s, 15mm, 1DWPD SSD |
| Zpool: | 12x Raid Z2 (8 Disks per group) |
| ISCSI Multipathing: | Active-Passive configuration |
| Storage capacity: | 352TB usable in one zpool |
| | |
| --- | --- |
| JBOD: | 2x SuperChassis CSE-946SE2C-R1K66JBOD |
| NL: | 90x Seagate 8TB 7.2k SAS 12Gb/s |
| Zpool: | 9x Raid Z2 (10 Disks per group) |
| SMB: | Active-Passive configuration |
| Storage capacity: | 518.68TB usable in one zpool |