Enhance Your Data Storage Infrastructure with Virtualization!
Our brochure contains everything you need to know about data storage in hyper-converged infrastructure. Explore all the benefits that come with it, including:
Energy savings
Hardware compatibility and availability
Capacity growth support
Single point of management
Data Protection in a new environment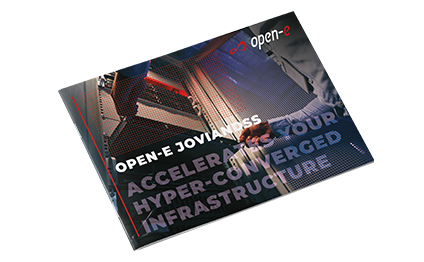 A big step for data storage, and even bigger for your budget efficiency!
Hyperconvergence is the next step in data storage evolution. The traditional approach is based on separate parts, which work together. It includes data storage, server, and network, which are managed separately. What hyperconvergence brings to our server rooms, is the possibility to unite these parts and manage them with a single view. It lets us to combine multiple physical parts into one logical entity with common management.
By simplifying and reducing the waste of resources, hyperconvergence lets you store data easier and cheaper by smartly distributing the capabilities of the combined components.
"The main reason we have chosen the redundant fail-proof storage solution based on Open-E JovianDSS presented by Boston Server & Storage Solutions was the perfect harmonization of stability, performance, scalability, and flexibility (which is more and more important these days). It allows us to react perfectly to the market needs. Another noteworthy aspect is the amount of electricity saved, about 4 kWh per day, which, thanks to the modern hardware, also benefits the environment and has a positive impact on our electricity costs. Especially the transparent advice in the area of hardware design possibilities on the part of Boston Germany, along with a fair price, convinced me - à la bonne heure. With this solution, we have created the optimal set of their applications in the home office for our customers."
Thomas Halbe, Managing Director / IT-Beratung HALBE
Your Hyperconvergence Upgrade Manual
If you think about upgrading your current infrastructure, this brochure can be a good point of check. Compare the possible options for the current situation in your company. By reading this document, you will get an expert review of the:
Configuration options
Real case studies involving hyperconvergence
Virtualization challenges
Hardware recommendations
CPU, RAM, and network requirements
Open-E JovianDSS configuration tips
Synergy between VMware and Open-E JovianDSS in the hyper-converged environments
Discover new ways to organize and manage your data storage infrastructure! By using hyper-converged infrastructure and virtualization you can use the most of your data storage capabilities and find the best solution for storing your company's data!