Professional system and network administrator at IT Administrator, a technology magazine for admins, have taken a closer look at the Thomas-Krenn Open-E RA1112 Metro Cluster, a solution created from Thomas-Krenn hardware and Open-E software.
The review includes a complex overview of the solution's features, performance, accessibility, sharing options, and more. The following benefits of the solution have been confirmed by the reviewer:
Guaranteed data security
Flexibility and scalability
High Availability
Unlimited number of snapshots
File-based sharing
Impressive mirror performance
Intuitive and simple web GUI
Perfectly suited for VMware environments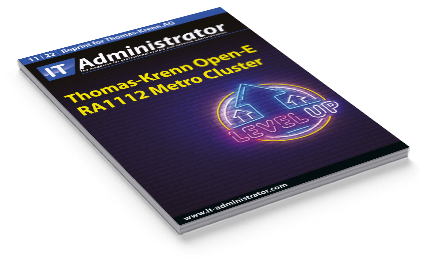 Mirror, Mirror in the Data Center
With the Open-E RA1112 (All-Flash) Metro Cluster, Thomas-Krenn launched a compact storage appliance based on the robust and well-known Open-E JovianDSS operating system. The system is based on the ZFS file system and Linux, and that is the reason why Thomas-Krenn chose to rely on Open-E JovianDSS for the operating system when building the RA1112 - it not only ensures the integrity of the stored data but also supports almost unlimited storage capacity and very large files. Shortly, two identical servers form a metro cluster to ensure highly available data storage through synchronous mirror operation and IT Administrator reviewers took a look at this dual server setup in their lab.
"The RA1112 Metro Cluster from Thomas-Krenn is suitable as a high-availability storage system for SMEs that want to keep their data synchronized at two locations. We see the main application primarily within virtualization environments under VMware vSphere, Citrix or KVM. Use in conjunction with Microsoft Hyper-V is also possible and certified, though Microsoft offers Windows-based alternatives that will likely integrate better into certain environments."
Jurgen Heyer, IT Administrator