Nemix, a Spanish National benchmark in the deployment of IT solutions, also closely cooperates with the aviation sector. For a long time, the company had already been providing one of their main customers the platform systems they use to build audio registration systems responsible for recording conversations between the airplane and control towers.
The former systems had been composed of 4 physical servers: 2 dedicated to the storage of the audio files while another 2 servers running the recording and archiving application. However, there were new challenges to be faced to meet the requirements of this highly demanding solution in terms of data storage space and regulatory compliance.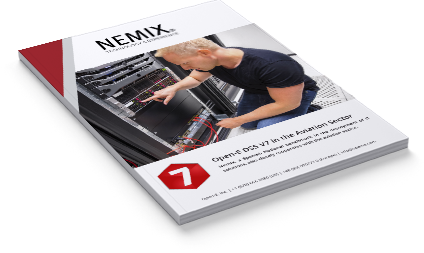 Challenges Faced
Nemix, in order to improve the currently provided solutions, decided to design a more reliable and cost-effective solution to face new projects on the market. The goal was to find an effective way to record and store communication records while being compliant with all the legal requirements for these types of systems that had to be met. The main requirement was the ability to keep these records for a defined period of time, that is why the storage solution was expected to be capacious and fail-safe. The system had to be also a part of the complex airport IT infrastructure, so it had to be built in a flexible and scalable manner.
The Chosen Solution
Nemix proposed a hyper-converged virtualized solution that reduces the required Systems to only two physical servers by using Open-E DSS V7 as the core for the storage. Each node runs VMware ESXi, and it has a locally deployed Open-E DSS V7 virtual storage server that controls the storage volume and exports it to the hypervisor utilizing the iSCSI protocol. As it runs locally through virtual switches, the performance storage is optimal. Additionally, the storage volume is replicated to the secondary node that has the same configuration. This way, the company has a fully redundant recorder available even if one of the physical nodes crashes. When the node is up again, the data is replicated back automatically to the primary node, and the system operates as usual. After the implementation of the storage solution, powered by Open-E, Nemix included the product in the solutions portfolio to be deployed on a long-term basis all over the world.
Technical details
| | |
| --- | --- |
| Total capacity: | 4TB |
| Disk type: | SSD |
| Hypervisor: | VMware |
| License: | 2x Open-E DSS V7 |
| Features: | Feature Pack Active Failover iSCSI V7 |
| Support: | 2x Support |
| | |
| --- | --- |
| Server: | SUPERSERVER SYS-5029P-WTR |
| CPU: | 1 x Intel® Xeon® SP 4214R |
| RAM: | 3 x 16GB DDR4-2933 |
| HBA: | AOC-S3108L-H8IR-16DD 8P INT |
| HDDs: | 3 x HGST 8TB 3.5" SAS (Data Raid 5) |
| SSDs: | 2 x Intel® SSD 480GB 2.5" SATA3 S4510 (O.S) |
| HBA: | LSI SAS 9300-8E SGL, 8-Port ext. 12Gb/s SFF-8644, SATA + SAS |
| NICs: | AOC-STGS-I2T STANDARD LP DUAL-PORT 10GBASE-T |