Introduction
The report presents the results of the certification process conducted on the Intel E810-CQDA2 100 Gbps Network Interface Card when used with Open-E JovianDSS software. Functional testing was carried out for both the Single node and High Availability Storage Cluster configurations together with performance measurements to ensure full compatibility.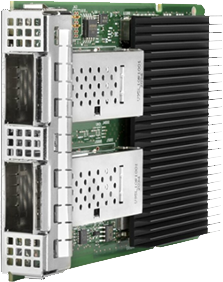 Intel Ethernet Network Adapter E810-CQDA2 Details
When performing the certification process an Intel E810-CQDA2 for OCP3.0 Network Adapter was used. A detailed description of the adapter can be found in Table 1.
| | |
| --- | --- |
| Product name | Intel Ethernet Network Adapter E810-CQDA2 for OCP 3.0 |
| Data Rate Per Port | 100/50/25/10GbE |
| Port Configuration | Dual |
| Interface | PCIe 4.0 (16 GT/s) |
| Intel® Data Direct I/O Technology | Yes |
| RDMA | Yes |
| Intelligent Offloads | Yes |
Single Node & High Availability Cluster Performance Tests
In order to ensure the outstanding performance of the tested device while used with Open-E JovianDSS, we have performed functional testing for both the Single Node system and High Availability Cluster configurations. The following test was intended to ensure that the Intel E810 network interface card is fully utilized when used as the connection to the client machine. This way, we have verified the sustainability of Open-E JovianDSS and the tested device alliance.
Test Environment
Hardware specifications of the environments used during the certification process are included in a table below. This applies to the Single node configuration as well as both the HIgh Availability Storage cluster.
| | |
| --- | --- |
| System name | Intel® Server System M5OCYP2UR208 |
| Motherboard | Intel M5OCTP25BSTD |
| CPU | 2x Intel® Xeon® Gold 6334 3.60GHz |
| RAM | 6x 16 GB 3200 MHz DDR4 |
| NIC | E810-CQDA2 for OCP3.0 |
| Storage devices | 6x Intel* DC P4510 2 TB (120 for Single node) |
| System | Open-E JovianDSS up29r1 Arch Linux-2021.11.01 (client side) |
| Test Tools | Performance measurements were done using fio for Linux, v3.28. |
Summary
The Intel E810-CQDA2 network adapter was comprehensively tested for full functional compatibility with Open-E JovianDSS. Performance characteristics were also tested in several use cases. Both Single node and HA cluster operations were taken into consideration. The tests were designed to find any abnormalities in the tested device. Given the results achieved in tesbnd the examined device can now safely be added to the Hardware Certification List and granted "Certified by Open-E" status.