Introduction
The following certification report presents the results of various compatibility and performance tests run on the Intel Optane DC P5800X NVMe Solid State Drive when used in combination with Open-E JovianDSS. A description of the testing methods used during those procedures will also be provided. The resuts obtained from the aforementioned testing and technical specifications were used as the basis for recommendations on specific roles in which to use the device under test (DUT) in Open-E JovianDSS-based systems.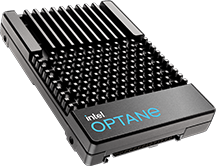 Intel® Optane™ SSD DC P5800X Details
The following table includes the Intel Optane DC P5800X NVMe drive hardware specifications.
Product name
Intel Optane SSD DC P5800X
Model name
SSDPF21Q400GB
SSDPF21Q016TB
Storage Capacity
400 GB
800 GB
1.6 TB
Form factor
U.2 2.5"
Interface
PCIe 4.0 x4, NVMe
Technology
3D XPoint
Enhanced Power Loss Data Protection
Yes
Security
AES 256 bit encryption
Testing Process
The functional testing was performed for both the Single node and High Availability non-shared storage cluster configurations. The Intel Optane P5800X was tested in the aspects of high performance, low latencies, writelog for HDD, SSD QLC and TLS NAND data disks. The results look as follows:
The Lowest Latency
As shown in charts 1 and 2, the performed tests have revealed that when used as a writelog, the tested Intel Optane P5800X has shown much greater results in the latency distribution. This result is common for both single node and non-share storage cluster configurations.
Both Intel Optane P5800X 400GB and 800GB have dealt with the latency well. Moreover, the device with 400GB capacity is highly recommended for use as writelog for HDD data disks as it has a sufficient capacity and provides a high endurance rate.
Test Environment
Hardware specifications for single node tests.
System name
Supermicro SYS-620U-TNR
Motherboard
Supermicro X12DPU-6
CPU
2x Intel Xeon Gold 6330
RAM
4x SK Hynix HMA82GR7DJR8N-XN 3200 MHz DDR 4 ECC 16 GB
Storage Controller
Broadcom / LSI 9300 SAS HBA (used for HDD)
Storage devices
1x Intel Optane DC P5800X 1.6 TB
1x Intel Optane DC P4800X 1.5 TB
4x Intel D5-P4320
20x Toshiba AL13SEB900 SAS HDD 10K 900 GB

System
Open-E JovianDSS up29r1 b44475
Hardware specifications for HA non-shared storage cluster tests.
System name
Tarox ParX R2242i G6 Server
Motherboard
Intel S2600WFT
CPU
2x Intel Xeon Gold 5222
RAM
192 GB - 16x Micron MTA18ASF2G72PDZ-3G2E1 3200 MHz DDR416GB DDR4 ECC 16 GB
Storage devices
1x Intel Optane DC P5800X (400 GB / 1.6 TB)
4x Intel D5-P4320 SSD 2 TB
System
Open-E JovianDSS up29r1 b44475
Summary
The Intel Optane P5800X drive was comprehensively tested for full functional compatibility with Open-E JovianDSS. Performance characteristics were also examined in several use cases. Both the Single node and HA cluster environments were taken into consideration. Tests were designed to find any abnormalities in the device, whether used as a read cache or a writelog for Open-E JovianDSS. Its usage showed significant improvement in random IO handling in most cases, especially for loads with large thread number and queue depth. It was also beneficial for throughput in sequential write tests with zpools consisting of HDD drives. Given the results, the tested device has now been added to the Hardware Certification List and granted "Certified by Open-E" status.