Introduction
The following certification report aims to present the results of various compatibility and performance tests performed on the Intel Optane P1600X NVMe Solid State Drive when used in combination with Open-E JovianDSS. A description of the testing methods used during those procedures will also be provided. The results, obtained from the aforementioned testing, along with technical specifications were used as the basis for recommendations on specific roles in which to use the device under test (DUT) in Open-E JovianDSS-based systems.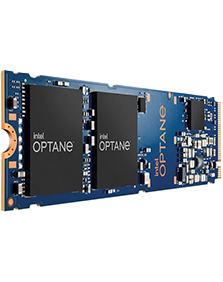 Intel® Optane™ SSD P1600X Details
The following table includes the Intel Optane SSD P1600X NVMe drive hardware specifications.
Product name
Intel Optane SSD P1600X
Model name
SSDPEK1A058GA
SSDPEK1A118GA
Storage Capacity
58 GB
118 GB
Form factor
M.2 22 x 80mm
Interface
PCIe 3.0 x4, NVMe
Technology
3D XPoint
Enhanced Power Loss Data Protection
Yes
Security
No encryption
Testing Process
Both the single and mirrored configurations of the raw device, also working as the boot medium or writelog, were tested for full compatibility. Installation was carried out using a regular, built-in installer of Open-E JovianDSS. The results look as follows:
Intel Optane P1600X as Boot Medium
In order to illustrate the performance spectrum, the work of Intel Optane P1600X was compared with the S4510 device. The carried out test cases included random and sequential read and write performances, the results of which can be well seen in charts 1 and 2.
The tested device has shown an outstanding performance compared to the S4510 drive in all test cases, with no issues found when using the device as an Open-E JovianDSS boot medium in either single or mirrored drive configurations. This way, we strongly recommend the Intel Optane P1600X 118GB due to its high performance, low latencies, and suitable endurance.
Test Environment
Hardware specifications for single node tests.
System name
Supermicro SYS-620U-TNR
Motherboard
Supermicro X12DPU-6
CPU
2x Intel Xeon Gold 6330
RAM
64 GB - 4x SK Hynix HMA82GR7DJR8N-XN 3200 MHz DDR 4 ECC 16 GB
Storage Controller
Broadcom / LSI 9300 SAS HBA (used for HDD)
Storage devices
2x Intel Optane P1600X SSD 118 GB
2x Intel Optane P1600X SSD 58 GB
20x Toshiba AL13SEB900 SAS HDD 10K 900 GB
4x Intel D5-P4320 SSD 2 TB

System
Open-E JovianDSS up29r1 b44475
Hardware specifications for HA non-shared storage cluster tests.
System name
Tarox ParX R2242i G6 Server
Motherboard
Intel S2600WFT
CPU
2x Intel Xeon Gold 5222
RAM
192 GB - 16x Micron MTA18ASF2G72PDZ-3G2E1 3200 MHz DDR416GB DDR4 ECC 16 GB
Storage devices
2x Intel Optane P1600X SSD 118 GB
Intel Optane P1600X SSD 58 GB
4x Intel D5-P4320 SSD 2 TB

System
Open-E JovianDSS up29r1 b44475
Summary
The Intel Optane P1600X drive was comprehensively tested for full functional compatibility with Open-E JovianDSS. Performance characteristics were also tested in several use cases. Both the Single node and HA cluster operations were taken into consideration. The tests were designed to find any abnormalities in the device used, regardless of whether it was used as a boot medium or as a writelog for Open-E JovianDSS. Given the results achieved in testing, the examined device can now safely be added to the Hardware Certification List and granted "Certified by Open-E" status.