Time is money, and so is the Data
In this document, we'll dive deep into the topic of backup. You can expect:
The step-by-step analysis of the modern world data storage threats
Journey through The Data Storage Protection Layers
List of questions to ask yourself before creating the ultimate Business Continuity and Distaster Recovery Plans
Safety measures you can take to protect your data storage against the potential risks
Tips how to manage risks in terms of the Business Continuity of your company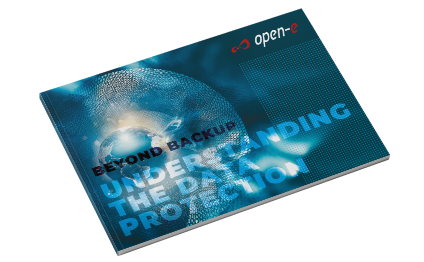 Why the Business Continuity & Disaster Recovery plans are a must?
Business Continuity is a kind of plan in the risk management field that helps you understand the essential organizational functions, the reasons for controlling them, and how to recover your data in any scenario. The basic functions prevent you from losing data because of silent data corruption as well as protect your company data with proper redundancy by keeping the parity data in your data storage array. It includes a High Availability cluster with the additional production and backup pool, used once the primary one fails. Finally, the Open-E On- and Off-site Data Protection deployed for keeping backups prevent you from losing hot data stored on-site or the cold data, i.e., archives kept off-site. These are also the first steps to enable the Disaster Recovery procedures, which we are covering in the brochure.
Such a plan gives you a complete picture of any possible emergency so that you can prepare to operate at least on a basic level during potential disruptions.

"During the last few years, the data storage industry and our customers were exposed not only to the new pandemic reality, but also to hardware shortages, rising inflation, the war in Europe, the energy crisis, and the economic recession that follows it. The horsemen of the Apocalypse one could say. In the era of global disruptions, it's crucial to ensure the resilience of your business to be prepared for facing all the market, financial, and environmental challenges. And that is the top priority task for the 2023."
Kristof Franek, CEO at Open-E
Is it worth risking?
Have you ever wondered why and how often a data backup should be done? If not, ask yourself a question: "How much of my work can my company afford to lose and how fast do we need this data back?". The answer seems obvious. And the list of potential risks is quite long, as you can see below:
Virus attack
Data corruption
Disk failure
Cluster rebuild failure
Natural disaster
Theft
Human error
System downtime
Backup solutions protect your investment in data, usually by keeping several copies of them. With such copies, having one destroyed is no longer a problem. Your data is precious and it will definitely cost you plenty of time and probably even more effort to recover it to avoid the data loss consequences.