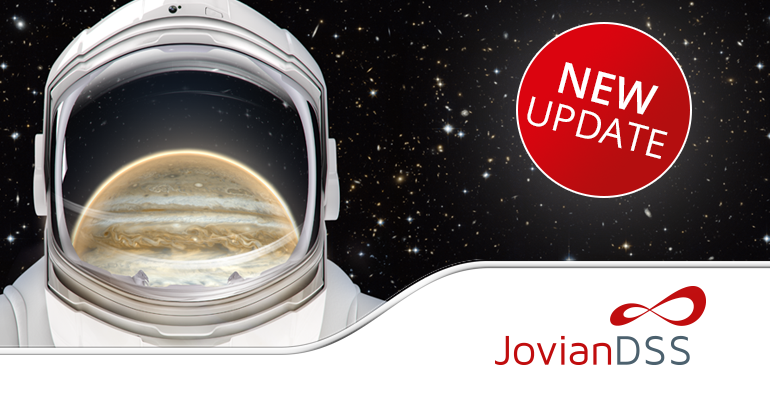 Open-E released another major update for its software-defined storage solution: Open-E JovianDSS update12, now available on our website. The main feature of this update is the Off-site Data Protection Service (ODPS).
Off-site Data Protection Service (ODPS)

Off-site data protection is a type of strategy  for disaster recovery that enables sending your critical data out of the main location of your storage. Thanks to this feature, servers with the most important data can easily be restored in case of a disaster. The Off-site Data Protection Service in Open-E JovianDSS up12 creates rotational auto-snapshots and asynchronously replicates snapshots deltas to local or remote destinations. With encrypted and buffered Data Replication for ODPS you can achieve even higher security and efficiency of your storage environment than before. Plus, with the ODPS, it is very easy to set up backup with an interval and retention plan, or disaster recovery for virtual environments like VMware, Hyper-V, Citrix Xen etc.
Update your Open-E JovianDSS – log in to your Portal on the Open-E website and simply download the update.
 Video: Open-E JovianDSS ODPS explained

Want to know how to handle the new feature? Watch our latest tutorial in which you can see how to use replication for Backup and Disaster Recovery with the new Open-E JovianDSS Off-site Data Protection Service:
Setup introduction
Data deduplication and compression demo (optimization by factor ~70)
ODPS (Off-site Data Protection Service) Quick Start (attaching the backup node, creating a backup task, listing backup tasks, checking the replication status)
Simulating pool corruption and Disaster Recovery
Download the Open-E JovianDSS Trial!
If you would like to test  Open-E JovianDSS, and see how easy it is to manage software-defined storage before buying a full license, download our fully functional 60-day Open-E JovianDSS Trial. All you need to do is:
1. Register on our website (see the button below).
2. After completing the registration process, log in to your Open-E Portal.
3. In your Portal go to the products section > "JovianDSS Trial" page and follow the instructions to download, install and activate your Open-E JovianDSS Trial version.
You can download the software for either a Single node or a Cluster setup.
Leave a Reply